7 Ways to Use Mobile Technology for Construction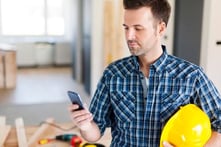 Contractors tend to have a practical approach to their work, and in a competitive market with many moving pieces and complicated projects, investing in the latest technology can help good contractors do their work better. In fact, 75 percent of small to mid-sized construction firms in North America have used a mobile device for work. Like any good tool, using mobile technology can make construction more efficient, accurate and cost-effective. Here's how:
1. Attract More Clients
Building Information Modeling (BIM) has revolutionized the planning phase of construction, drawing in more clients because owners can understand the design better. This technology is quickly rising in prominence, and with it comes the client's expectation that the outcome of a construction project will be clear to them from the very beginning. With programs like BIM 360 Glue, contractors and clients with a tablet can see a model come to life before their eyes exactly where they stand in the building.
2. Tracking Workers
Say goodbye to messy timecards, spreadsheets and wondering where your employees are when they say they're working. With GPS-enabled mobile technology like ClockShark, construction workers can clock in remotely via a smartphone app. Location and hours are logged automatically, and administrators can save time spent managing payroll by at least 50 percent.
3. Tracking Equipment
Rather than digging through piles of equipment or replacing lost items, construction companies around the world now use RFID tags to find misplaced or stolen equipment. High value assets can be tracked remotely, and managers can see in real time where each piece of equipment or tool is located.
4. Increasing Productivity
Mobile technology gives construction professionals the ability to track orders, make phone calls, read emails and solve problems from anywhere. Workers can view client contracts, share blueprints or submit maintenance requests from a tablet. Managers can respond to needs as they arise, saving time and moving the project ahead at a faster rate.
5. Improving Communication
Mobile phones and tablets can be used for photo sharing and video conferencing with clients. Use an app to schedule meetings and sync your mobile calendar with your desktop calendar. Push notifications out to all of your workers when you're on the job instead of wasting time returning to the office. The new Apple iPhone 7 is equipped with a 12MP wide-angle camera for top-notch photo and video quality and is both water and dust resistant, which can come in handy on a construction site.
6. Lowering Costs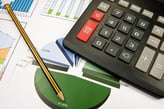 Streamline processes with mobile apps and automatic notifications. Virtually eliminate data entry with mobile time clocks and job write ups. Use BIM software or a simple photo sharing strategy to ensure that your work is approved by the client at all times. This improved communication process will result in less reworks, which saves both time and money. That way you can save the company's bottom line for the really important stuff: getting the job done right.
7. Capture Real-Time Analytics
If equipment, inventory, job progress and workers' time are all being tracked with a mobile device, then it's possible to obtain real-time analysis of how all of those moving parts relate to each other. Being able to respond to real-time analytics means that you can achieve great efficiency and more profits that much faster than your competition.