How to Choose the Appropriate Finish for Stained Woodwork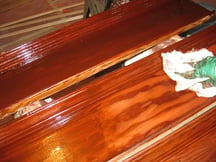 Stain can be a beautiful addition to any wood product. As a general contractor or a flooring contractor, you have undoubtedly had many customers ask which stain would be best for their flooring, cabinets or other wood surfaces. When choosing which finish to go with, it is essential to consider some pros and cons of the available options. With this information you help your customers make a more informed decision. It can also help you identify and schedule the right services necessary for the work you need to complete.
Finishes can provide a protective outer layer, while keeping the look of the natural grains throughout the wood planks and pieces. Each individual finish will vary in appearance and some work better with certain woods while others do not.
Some options can be used as both a stain as well as a finish depending on the material you are finishing. When explaining to your customers the various finishes available for the work at hand, be sure to detail some of the following so they better understand the products available and can make an informed decision when choosing a finish.
Varnish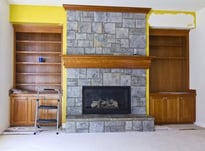 One of the most common choices to go with, varnish provides a protective glossy overcoat. It comes in stained colors or clear. You can choose from water based or oil based and a small quantity can go a long way. The best part about varnish is that you can use it on wood both inside and outside of the home. Varnish can be very flammable so it is best to keep it away from open flames.
Beeswax
Beeswax protects the outside of the wood and when buffed down can provide a shiny outer coating. It should however only be used on wood materials that will be inside the home. Beeswax is available in both an oil and water based mixture. This is an eco-friendlier option if looking for a coating that is non-toxic to the environment.
Linseed Oil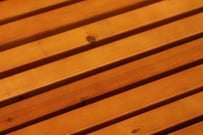 When used on wood water will not penetrate through the linseed oil surface and it provides a smooth, slick outer shine that other choices might not give. It should only be used over unsealed wood. It too is highly flammable, so it should always be kept away from open flames. Linseed oil can be used both inside and outside for multiple wood projects and can easily be applied by someone with experience working with wood products.
Wood Preserver
Wood preservers are available in both oil and water based. Preservatives provide a way to protect the wood against insects and other intruders. It provides a clear, glossy coat over the wood that hardens and protects. It is recommended for exterior use. Wood preserver comes in a clear coat or can come in stained color.
Wood Finishing Tips
Stay away from safflower oil and carnauba oil, since both are not highly rated for finishing stained wood.
Check for VOC ingredients on the label to find out if the finish you choose is eco-friendly. This will be extremely important for your customers who are trying to, or already have, decided to go green with their home or business and want eco-friendly products only.
Read the product label to find out what types of wood the product should not be used on. Even with years of experience, it's easy to get various products mixed up and make mistakes.
Follow the guidelines given by the manufacturer to achieve the best result on the wood you're sealing.
Always stain and finish the wood in a well ventilated, open area. Allow for plenty of time for the fumes to dissipate after the work is finished.
When applying finishes protect yourself and workers from breathing harmful vapors. Also, make sure the homeowner and pets will not be closed in with the fumes when you leave.

Guest Blogger: Tom Masters has been working in the construction industry since he was a child. Lately he prefers the business end and writing about the trade. He is currently working with Contractors Today