How To Renew Your MA CSL Online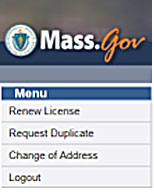 You can renew your MA CSL by mailing in your application or going in-person to renew it at the Department of Public Safety in Boston. One other option for renewing your MA CSL is to do it online. One great advantage of doing it online is that the process is instant and you don't need to have already received your renewal application from the state to do it. I recently renewed my MA CSL License online. The experience was not all that difficult and it didn't take too long to do it. Read on to find out how to do it and what you will need to have available before you start the process.
Note: To renew your MA CSL online this article will give you an overview. If you would prefer detailed step by step instructions click here.
If You Want to Renew a MA CSL Online
You will need to register first
If you have never renewed your CSL licensee on line before you will need to first register at the state's web site before you can complete your on line CSL renewal. To register you will need to pull a few things ready first. Make sure you have your Social security number, your date of birth and CSL license number ready before you begin.
Once your registration is completed you can login right at the confirmation screen to access your account and begin the renewal process online.
Get Your MA CSL Completion Certificates Ready
Before you begin the online MA CSL renewal process make sure you have electronic copies of your completion certificates available on the computer you are using because you will need to upload the certificates as part of the MA CSL online renewal process. Be aware that scanned documents must not be larger than 3 MB in size. Also, only documents with the following file type extensions will be processed: .doc .docx .pdf .jpg .gif .png.
Your new license will need a photograph.
If you already possess a MA Driver's License you can grant permission for use of that photo during the CSL renewal process. If you do not have a MA Drivers License or do not want to give permission to use that photo you will be required to upload a photo. If you want to do this you will need an ID Photo that meets US Passport 2" x 2" photo specifications.
When ready to log in:
Log in using your user ID and password. After logging in you will be at the "Licensing Home Page" and should see your MA CSL license record information. You will need to select your CSL License for renewal by finding it in the list (assuming you have more than one license) and then click on "Continue".

After clicking "Continue" you will be taken to the "License Renewal Application" page where you can click to begin the renewal process for your MA CSL.
As you follow the screen prompts you will have opportunity to confirm or update your address information.
At the "Application Questions" page you can choose to allow use of your MA Driver's License photo or upload a photo that meets the renewal requirements. After answering the remaining questions click on "Submit". You will be taken to the "Attach Documents" page where you can upload your MA CSL CEU Completion certificates as well as a photo.

Repeat the upload process as needed to upload all the certificates needed to meet the credit requirements of your CSL license type.
Click here to see what the required categories of license credits you will need
Click here to see how many credits you will need depending on your license type
After uploading your completion certificates you will be taken to the "Survey Questions" page. Answering the survey questions is optional.
Next you will be taken to the "Application Summary" page so you can review and confirm all information. Use the menu at the left side to go back and make any changes as needed.
Then you will be taken to the "Pay License Fees" page. There you will find your total renewal fee amount and can click on "Pay Fees" to proceed.
At the "Make a One-Time payment" screen you will enter your payment information and "authorize your payment.
After you submit your payment, you have sent your application and fees to the Department of Public Safety for processing and you will be brought to a confirmation page which includes a receipt number. The confirmation page is printable and can serve as your receipt.
I hope you found this information helpful. Renewing online was quick and easy for me. I hope you will have a similar experience.