Thoughts on Choosing a MA CSL Renewal Class and Instructor
Choosing your MA CSL renewal class simply by price or location may not be a good investment for some MA CSL license holders. Sure, you may get the credits you need, but why not also seek to increase the return on investment of your hard earned money!
Here are a few things to consider before you choose which class you will sign up for.
Different trainers offer different classes and subjects.
Some trainers offer classes that concentrate on trade skills. Others offer classes that concentrate on building code and or energy code requirements and amendments. On the other hand we have decided to concentrate our classes on helping contractors charge and keep more money by helping them with the way they run their businesses and how they manage construction. For example, one of our previous 6 hour CSL Classes titled "Estimating, Pricing and Producing Successful Construction Projects" covered ways contractors can be accurate about pricing their projects, write proposals that help sell work and assemble job packages crews can build from on their own so the owner can concentrate on selling another job.
I find it amazing how many attendees don't even know what topic will be covered when they get to the class they had signed up for. Before you choose a class to renew a MA CSL first consider the topic being offered. As a business owner you may want to take a business related class but send your licensed production employees to a different class.

Make sure you get the right number and categories of credits you need
Depending on your license type you will need either 6, 10 or 12 credits to renew your MA CSL. Check out this link for a full explanation of how many credits each CSL License type requires.
Although the number of credits needed differs by license type, all three license types require the license holder obtains credits in certain topic areas called categories. The list of required categories is different the first time you renew than subsequent renewals. Make sure the class or classes you take will give you the right credits to renew. Check out this link for clarification about the required CSL Credit hour categories.
Some trainers have more experience than others
Two things to think about regarding the trainer you choose.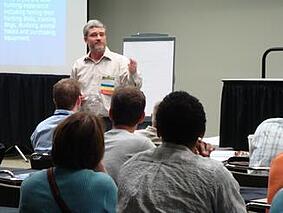 The first is whether the class instructor is experienced as a teacher and can effectively help you and or your employees learn the topic at hand. Some trainers have degrees in education and lots of previous experience actually teaching. Other trainers lack the skills and or experience needed to help you actually understand and then apply what you learn in class in the real world. I suggest you choose a trainer with a proven educational background. If you don't already have past experience with the trainer and his/her abilities, referrals and or testimonials from past attendees can be a big help when making your selection.
The second important consideration about choosing a trainer is the level of actual practical experience that trainer has had using and or performing the skills being taught. In my opinion too many trainers have read the book on how to do something and then decided to teach about it. If the instructor lacks practical experience he or she may actually be misleading the attendees. We are seeing a lot of this now that contractors and workers are renewing their RRP certifications at our RRP Refresher classes. Many attendees share they are very disappointed when we tell them the information and guidance they got form a previous instructor was incorrect and has cost them a lot of money and or put them at risk for potential fines.
Renewing your MA CSL takes up a lot of your time.
If you have to do it anyway why not maximize the value of your time and the money you spend by being strategic about the topics and instructor you choose? By doing so the money you spend will be an investment, instead of an expense.