Resources for Aging Remodelers and Remodelers Serving Seniors
We are all getting older every day. That reality hit my wife and me a few years back, motivating us to seek a new home where we could happily and comfortably grow old together. We wanted a home configured to serve us as our health declines. Just as important we wanted one we could also afford to live in and maintain on our retirement income, without the need and cost to move to an assisted living facility. It's called aging in place and it's a huge opportunity for home builders and remodelers seeking to differentiate themselves. In this blog I share a list of links to resources and information for construction business owners and consumers preparing to grow old. I also share the list to help contractors and their businesses take advantage of the opportunity and become part of the solution. Here's why:
90% of seniors want to stay in their own home as they age
60% have made improvements to increase their ability to live independently
49% of seniors want to modify their current homes
38% of seniors want a new, aging in place ready home
27% is the increase businesses see by offering aging in place services
I didn't assemble the links myself.
The links were emailed to me by Patricia Sarmiento who works for Public Health Corps. Their goal as an organization is to provide a hub of reputable and useful public information on health related topics that will empower others to make a difference in their community. According to the web site their mission is simple: Putting the public back into public health.


Below is part of her list of helpful and educational resources
Patricia and I invite you to share it with others as you see fit. Share this information in your marketing, on Facebook or Twitter, and at your web site or blog. Use this information to increase your knowledge to better serve seniors. And, if you're getting close to retirement age, use the information to help prepare your home and yourself for aging in place. Even contractors get old! Don't you deserve a healthy and comfortable retirement just as much as your clients do?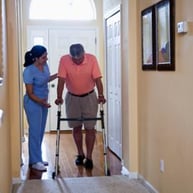 Aging in Place
http://ageinplace.com/
Senior-Friendly Home Remodeling
http://www.homeadvisor.com/article.show.Senior-Friendly-Remodeling.8317.html

22 Senior Health Risk Calculators for Healthy Aging
http://www.calculators.org/health/aging.php
Cats and Seniors
http://www.americanhumane.org/animals/adoption-pet-care/cat-behavior/cats-and-seniors.html
Canine Caregivers for Alzheimer's and Dementia Patients
https://www.rover.com/canine-caregivers-dementia-alzheimers/

Pets for the Elderly Foundation
http://www.petsfortheelderly.org/

Older Adults & Anxiety
http://www.adaa.org/living-with-anxiety/older-adults

Heart Attack Quiz
https://www.acls.net/heart-attack.htm

National Council for Aging Care
http://www.aginginplace.org/guide-to-recognizing-elder-abuse/