Four Considerations for Contractors Offering Design - #4 is Most Important!

With a well thought out strategy for offering design services contractors can differentiate their businesses and attract better quality clients and projects. However if their offering is not well thought out contractors can lose a lot of money and waste a lot of time.
If you want to offer design services consider these four important areas before you go for it. If you are already offering design services, these same considerations can help you validate and or think a bit more strategically about your offering.
#1: Compensation
Nothing is free, neither is design. Even if you offer it for free to prospects doing so still adds to your business overhead costs. Charging each customer for their design is one option. If you don't charge consider how many free designs you will complete to sell one job and add the anticipated costs for doing them to your overhead budget before you determine your markup. How you choose to go forward with this consideration should be based on the targeted customer type you identify in your marketing plan.
Offering design comes with risks. I also strongly recommend getting Design Liability Insurance and adding the cost of coverage to your pricing strategy.
#2: Create a clearly defined process
To control costs and manage customer expectations you need to decide what level of service you will offer, and whether you will offer your design services at a fixed price or on an hourly rate. At my business I used a fixed/defined process and price strategy limited to concept design. This was because as a Design/Builder our goal was to quickly get to a contract for construction. Completing the plans for permit application only happened if we built the project. For our target customer type that process worked well and kept the upfront cost of making decisions and getting to a fixed price quote down for our clients.
The image below shows the first half of the Design/Build process I share with my clients.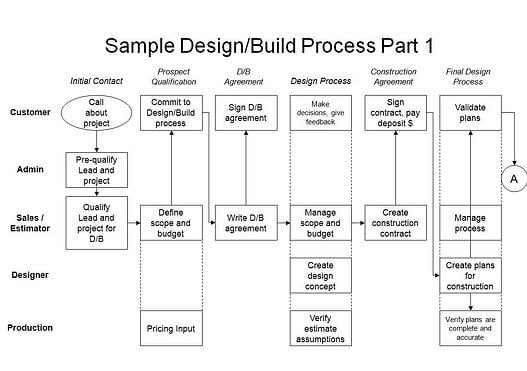 #3: Ownership of the plans
Consider whether you are selling design services or plans. If you sell plans your clients may see their project as a commodity and may want to use those plans to collect bids from other contractors. Allowing that to happen also definitely increases your design liability. My recommendation is to differentiate your business by selling personalized design services, not plans. Then, only offer design services to prospects who intend to hire your business to complete the project. Plans for permit can then be created and shared with them after they commit to construction.
#4: Use a supporting marketing and sales strategy
After thinking through and deciding on the considerations mentioned above the business will need a way to market and sell their offering. The right marketing should help define your offering so prospects can prequalify whether what you offer is right for them, or not. Doing this will help attracted your targeted prospect and save salespeople a lot of time on sales calls. This is because by doing so prospects will only need to clarify and confirm your offering when they request to meet or speak with you, you will no longer need to introduce and explain your offering.
Your web site is a great tool to use for marketing and explaining your design services. And, if the information is on your web site, you can direct prospects to it from the other marketing tactics you use, or when they first call your office to inquire about a project that requires design.

Other Design related articles you might find helpful
Managing Risks With The Right Design/Build Insurance Options
Design and Spec Considerations for Remodelers Looking to Break $1Million
All Plans and Specifications Will Be For The Exclusive Use Of …
As Designers, Are We Honest in our Business Dealings?
10 Ways Some Architects Do A Disservice To Contractors & Home Owners
Design Options for Design/Builders: Partnering for Design
Design Options for Design/Builders: In-House Design