Choosing The Proper Commercial/Industrial HEPA Vacuum Cleaner
Compromised health and millions of dollars are wasted each year, by contractors that make the huge mistake of purchasing a domestic HEPA vacuum cleaner rather than purchasing a commercial / industrial grade HEPA vacuum cleaner to do the proper job for their needs.
Check out the article below for insight about choosing a HEPA Vacuum
Below the article you will find additional links and information.
---
Choosing a HEPA Vacuum by Barry Cohen
Note: The following information is provided by Barry Cohen, the owner at

Absolute Air Cleaners, Air Purifiers, & Allergy Products. It has been posted on this site as a resource to help contractors and should not be considered an endorsement of any particular products and/or businesses.
99% of domestic HEPA vacuum cleaners are not designed to hold up to commercial or industrial use. However people all too often purchase them to clean industrial and construction debris, chemical spills as well as do it yourself lead and asbestos abatement only to contaminate and poison themselves with the debris and chemicals they are trying to remove with their leaky unsealed HEPA vacuum cleaners! YES UNSEALED!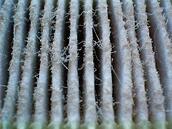 Just because a domestic / residential HEPA vacuum cleaner has a HEPA air filter in or on it, the great majority of these vacuum cleaner's SPEW particles, allergens and dangerous chemicals including lead and asbestos back into the indoor air environment to be breathed by the person vacuuming and by everyone else in the area. This is because most of the HEPA filters are not properly sealed in the vacuum case and vacuum cleaner cases themselves are not sealed. When the air pressure from the motor pushes air through the vacuum cleaner the dirty contaminated air leaks from these vacuum cleaners often to contaminate the air, home or building worse then ever because the contaminates are being removed from the many different types of surfaces only to end up floating in peoples indoor breathing spaces! Since most domestic HEPA vacuum cleaners only use 1" diameter hose, the hose will often plug up with contaminated construction debris. When the user has to pull the hose apart to unclog the plug the debris often ends up blowing all over the place to be breathed by the people and pets in the area! Even the so called commercial Shop Vac's with HEPA filters purchased at big box stores like Home Depot, Wal-Mart and LOWES have been found to leak contaminates back into the air while vacuuming!
You can do a simple test to see if your HEPA vacuum cleaner really is leaking contaminates back into the air. Just take your HEPA vacuum cleaner and put it into the direct sunlight coming through a window. Then turn on your dirt filled HEPA vacuum cleaner. If it's leaking just a little bit you will be able to see thousands and thousands of particles blowing from your vacuum cleaner into your living space! However if you really want to see a proper test that professional's use in the chemical, lead and asbestos abatement industries to test their vacuum cleaners and air cleaners for possible leaks, you will need to borrow or purchase a certified laser particle counter that is made to measure the exact amount of particles in the air or possibly leaking from a HEPA vacuum cleaner, HEPA air Cleaner or HEPA air purifier. A properly sealed HEPA filtered vacuum cleaner should show ZERO particles coming from around it's HEPA filter and from around it's case! Most people set these laser particle counters to test for particles to 99.97 efficiently down to .3 microns in size. The only domestic vacuum cleaner we have seen pass this test is the sturdy Air Storm HEPA vacuum cleaner made in the USA. However the Air Storm is designed with a 1 1/4 inch hose that is best for home and office cleaning environments while being not suitable for larger debris found in most asbestos, lead and mold abatement and construction debris vacuum cleaning projects!
The most well known brands of commercial / industrial HEPA vacuum cleaners are made by NIKRO, PULLMAN-HOLT and NILFISK. All of these HEPA vacuum cleaners are manufactured with large holding tanks and motors. Some are for dry materials only and some are wet-dry vacuum cleaners that will pick up dry or liquid materials. We prefer the wet-dry types because they will clean almost any type of loose contaminate wet or dry. WE FEEL THAT THE NIKRO IS THE BEST BRAND OF COMMERCIAL / INDUSTRIAL HEPA VACUUM CLEANER ON THE MARKET BECAUSE IT IS BETTER BUILT, MORE USER FRIENDLY AND MADE IN THE USA!
The most important features of these heavy duty commercial / industrial HEPA vacuum cleaners are they are 100 percent sealed to give their operators a zero laser particle test so absolutely zero contaminates are blown back into the air while vacuuming with them. These powerful brands of HEPA vacuum cleaners are also designed and able to vacuum larger sized contaminates with wide hoses 1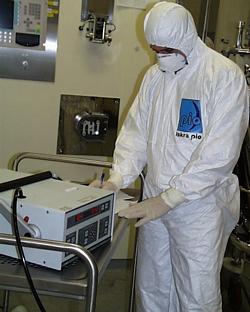 inch to 2 inches in diameter. NOTE: Most of these vacuum cleaners are designed to clean dry particles into paper containment bags, which can be costly and they need to be replaced when full. Then the filled paper containment bags should be sealed into a thick Mil plastic Hazmat containment bag for disposal.
We like the NIKRO line of HEPA vacuum cleaners the best because you can vacuum without needing expensive paper containment bags. The NIKRO can suck dust, dirt and other contaminates directly into Hazmat thick Mil plastic contaminate bags that can then be sealed up and disposed of properly. Also NIKRO HEPA vacuum cleaners are made in the USA so customer service is fast and replacement parts are easy to get. NIKRO HEPA vacuum cleaners will also pass all requirements for the EPA Lead Paint Renovation Repair and Painting (RRP) Rule which is the new Federal law for lead paint abatement!
Cost: A top quality commercial / industrial grade HEPA vacuum cleaner to clean hazardous materials including 25" of hose and all needed tools will typically cost between $800.00 and $1,600.00 depending on the tank size, filtration system and motor configuration. This price is very reasonable considering that a Kirby, Electrolux or Tristar domestic vacuum cleaner will often cost twice that price!
Companies that purchase commercial / industrial HEPA vacuum cleaners include:
Commercial cleaning companies
Construction cleaning companies
Asbestos abatement companies
Lead abatement companies
Mold abatement companies
Chemical spill Hazmat companies
Air duct cleaning companies
Maintenance companies
Automotive shops that deal with brake dust and toxic chemicals
Factories to clean equipment and all kinds of spills
Medical facilities, research facilities and laboratory facilities for clean room environments.
Schools and Government buildings
The Military and home defense
URGENT:Home and business owner do it your selfers that are wise enough to know how important it is to clean up toxic chemicals and materials with a 100 percent sealed commercial / industrial grade HEPA vacuum cleaner to avoid contaminating their living space, family and or employees!
REMEMBER: If you're going to do the clean up yourself, you need the proper HEPA vacuum cleaner to do the job correctly. This is very important if you are doing lead paint abatement. Spend the money on the proper HEPA vacuum cleaner equipment that will pass the EPA RRP rule law and STAY HEALTHY!
For More Information, A Free HEPA Vacuum Cleaner Consultation With Prices On Top Quality Commercial / Industrial HEPA Vacuum Cleaners Including The Top Quality NIKRO HEPA Vacuum Cleaner, See The Website At http://www.aircleaners.com/
Or call Barry Cohen the owner at Toll Free 1-888-578-7324 1-888-578-7324 or call 1-970-259-3998 1-970-259-3998
---
More Resources Related to HEPA

Vac

uums
On this JLC Forum, contractors struggling with selecting a vacuum that will comply with new EPA rules for containing lead dust on remodeling jobs share opinions, frustrations and suggestions.
HEPA Vac Options That Meet EPA Requirements
Shawn has no experience or any financial arrangement with these companies. These links were suggested by others in the industry as options to consider when searching for a HEPA vac. Feel free to suggest additional sources and or suppliers of HEPA vacs to include on this page, or to send in a comment about your experience with a product.
If you are a HEPA vac manufacturer and you would like me to try out and review your product feel free to contact me.
All current Festool CT Dust Extractor models have been independently tested and certified to be FULL UNIT HEPA Dust Extractors. When you purchase a new Festool CT Dust Extractor, regardless of model, you will find a printed certificate in the box as well as labeling on the dust extractor documenting its Full Unit HEPA certification.

Nikro offers a complete line of critical filtered vacuums for use in removing asbestos, lead, toxic, and nuisance dusts or other applications were H.E.P.A. filtration is a must.
One of the big advantages of the Dustless HEPA Wet/Dry Vacuum is the optional Micro Pre-filter that greatly extends the life of the HEPA filter. The Micro Pre-filter is an inexpensive disposable filter that captures the vast majority of the dirt and dust before it reaches the more expensive HEPA filter.
Industrial Vacuums has supplied vacuums to industry, contractors, home users, fire departments, and federal, state and local government agencies since 1992.
Pullman-Holt HEPA Vacuums are designed for the efficient recovery of asbestos, lead, mold and many other hazardous materials. Each model meets or exceeds all EPA, OSHA and RRP filtration requirements.