How to make sure you will get credit for MA CSL Classes you take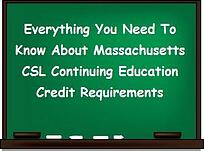 In July of 2011 the MA Department of Public Safety (DPS) announced that it was requiring continuing education credits (CEUs) to renew all categories of CSL license types in Massachusetts.
As of July 1, 2013, to renew your MA CSL License you will need to provide proof of successfully meeting the Mass CSL Continuing Education requirements.
When you apply to renew your Massachusetts CSL License you will need to send in copies of the course completion certificates with your MA CSL renewal application.
To earn the required CSL credits (CEUs), licensees must take courses that have been pre-approved by the state. Students must attend classes in their entirety in order to receive the approved CSL renewal credits.
Depending on your specific CSL license type you will need a specific number of total credits and a certain number of total credits must be in specific categories.
Upon completion of the CSL classes you take make sure you receive completion certificates indicating you have attended and met the requirements of the class. Store you completion certificates where you will be able to find them at the time of renewal of your CSL.
Requirements of your CSL CEU Training Provider
At all approved CSL Continuing Education Classes students must be provided a syllabus containing:
The exact course title as approved by the state
—The time(s) and date(s) of course offering
—The names and contact information of the CSL course coordinator and CSL course instructor
—A detailed outline of the subject materials to be covered
—Supplemental materials must be available at the time of the course offering
Make sure you will get the credit(s) you expect before the class starts!

At the beginning of each MA approved CSL Class offering, the following notice must be handed out in printed form or must be read to students by the CSL continuing education credit trainer:
— "This educational offering is recognized by the Massachusetts Board of Building Regulations and Standards as satisfying (insert number of hours approved) hours of credit toward continuing (insert appropriate industry) education requirements"
Note about advertisements
The number of hours for which a Mass CSL course has been approved must be prominently displayed on any advertisement of the course. If the course offering is longer than the number of hours of credit to be given, it must be clear that credit is not earned for the entire course.
If you feel your CSL continuing education credits trainer has not provided you with the information described above, or if you have any questions about MA CSL Continuing Education courses you can contact Kim Spencer, Department of Public Safety @ 617-826-5236 or kimberly.spencer@state.ma.us