Checklist of Consideration for Contractors Offering Snow Removal Services.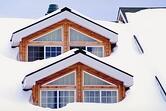 When winter snows and ice dams hit many contractors see offering snow and ice dam removal as an opportunity to make money. If you're considering snow removal as an opportunity for your business thinking ahead about how and where you offer it, as well as how you will perform the work, can help protect your business from inherent risks. Thinking ahead about your approach can even help you drum up additional work after the snow has disappeared.
Offering snow removal services makes sense for many contractors
After all, if work is slow during winter months, snow removal can bring in extra revenue. Also, many projects come to a halt when the weather makes working outside impractical or makes going in and out of a building while working on interior renovations dangerous and messy. If you price it correctly, offering snow removal and ice dam removal can help keep employees working and help contribute gross profit to cover business overhead.
How the snow removal checklist list came about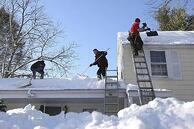 Several years ago I helped one of my remodeler coaching clients plan out how to offer and perform snow removal services. He called me because he realized there were a lot of things he should consider before just sending his guys out with there with shovels and axes. Below is a list of considerations from my coaching session notes created during my discussions with him. By sharing my notes my hope is that you will find them helpful, you will price the work for profit, you and your employees will be safer while performing the work, you can use the opportunity to create new customers and you will generate future work from those that hire you.
Checklist of Snow Removal Services Considerations for Contractors:
Suggested he consider the work is labor intensive, he will not be earning his typical gross profit on subs or materials, be sure to price hourly rates accordingly.
Agreed on $300 first hour with two men, $80/hr per additional man hour.
4 men doing it currently. Full employees with Workers Compensation (WC) coverage.
Discussed properly equipping his employees to avoid risk and health problems. Confirmed he has fall protection equipment needed to meet OSHA requirements and employees know how to use it. Should try to do as much of the work as they can from the ground.
Confirmed that he knows which WC classification workers will be in while doing the work and what rate he will be charged on all related payroll.
Discussed a variety of ways to do the work to limit residual damages.
Discussed setting realistic expectation with clients before doing the work. Agreed that only using a verbal agreement about services would not be acceptable.
Help home owners understand nature of the work, let them know that damages

will

happen and that he cannot guarantee preventing leaks or any possible damages inside or outside.
Suggested he have an agreement; created and or reviewed by legal counsel.
Suggested he disclaim in the agreement any water damage prevention and or remediation responsibilities.
Look at the work as a good way to meet new clients. Because there might be more demand than he can service, be selective about who he will work for, make sure they fit within his target customer/location niche.
Suggested he make follow up calls to verify home owners are all set and happy, ask if they should come back if it keeps snowing.
Collect contact info including e-mail addresses so he can re-market for future work.
If he uses any subs make sure they are properly insured and follow OSHA requirements. Make sure subs know not to attempt to solicit or accept any work from his customers.
Keep emergency contact info on site and or in each vehicle.
Suggest he ask about future work, both snow related and remodeling.
Could create a checklist of things to ask or tell customers related to the work and future work; what his company does. Said he has already created a simple sheet listing other work they do.
Suggested he should be prepared regarding how to differentiate his business from other businesses offering the work. Discussed one way is to offer all clients an insurance certificate that lists the home owner as an additional insured, sent direct to the client from his insurance agent before work starts. Verify his agent is prepared and capable to do so.
Suggested considering doing a YouTube video commercial about the service and put it on his website ASAP.
Discourage use of Red Bull, maybe even coffee. Suggested hot chocolate and donuts.
Suggested refrigerator magnets would be a good leave behind. Also consider 5-5-10 door hanger package we had discussed on a previous call about jobsite marketing.
Asked him what his top three takeaways from our discussion were:

Caution regarding liabilities, set expectations with clients in writing.
Realizes the marketing opportunity, concentrate on working for his target customer.
Keep an eye on the big picture to avoid liabilities and not miss an opportunity by being blinded by a just getting the work done mentality.