Consulting, Coaching and Mentoring
With Shawn McCadden
Shawn, in a variety of ways, helps serious contractors regain control of their lives by working with them to identify and achieve their business and personal goals.
He helps contractors achieve long term success through the implementation of profit building systems and procedures that put the fun back into success.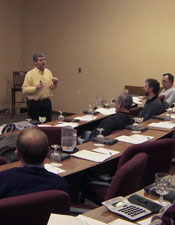 Mentoring is a relationship in which experienced people (mentors) share their time and knowledge with those (protégé) who are willing to perform the work required to be successful.
A mentor is a trusted teacher, coach and counselor who has his protégé's best interests at heart and helps him or her avoid the possible frustrations and costs of trial and error.

Thinking about working with a Business Coach and Mentor?
Shawn selectively works with aspiring remodelers, helping them discover, identify and achieve their professional and personal goals. Some of the services he offers to serious remodelers include:
Establishing company organization and procedures
Planning and budgeting for business and personal profitability
Starting a new business, and saving an existing business.
Shawn's Coaching and Mentoring approach typically includes three basic assumptions for the activities required to make an evolution of lasting or permanent changes to your business and or personal life:
Self Discovery: In order to facilitate and commit to any change, we must first self-discover and then admit that change is needed. This includes identifying what should change as well as the real reason(s) we are motivated to make the change(s).


Discovery of Options: Once committed to making any changes, we must become aware of the solution options available to us. By doing this, we can best choose the option(s) suited to meet our needs, or accomplish our goals.


Implementation of Your Solution: Discovering the solution doesn't make the change happen by itself. All changes require making an ongoing commitment to the evolution of attitudes and behaviors required to make the change happen. Then consistent reinforcement is required to encourage and maintain the path towards lasting or permanent change.