Checklist For Implementing The Lead Carpenter System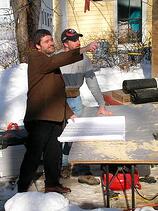 Many Design/Builders have found the Lead Carpenter System for production to be a very complimentary best practice when paired up with the Design/Build delivery system. When I owned my business it certainly proved to be the way to go for me and my employees.
Using Lead Carpenters a Design/Build firm can reap many cost saving and efficiency benefits over the typical production manager driven system of production. For more on these two system options for production and some reasons why I think the Lead Carpenter System works best for most Design/Builders, check out this article I had written for Professional Deck Builder magazine titled "Managing Production".
If you are considering a lead carpenter system for your business I also suggest you read my article titled "An Overview of the Lead Carpenter System". If after reading the article you want to implement the system at your business I offer the following as a checklist of suggestions and considerations for how to implement a Lead Carpenter System:
Create a written plan for implementation, including a realistic timeline.
Determine what the costs to implement will be and adjust your markup/margin accordingly.
If just starting a business, begin now.
If already in business, consider if you are ready to let go and delegate?
Get your business systems ready to support Lead Carpenters and the Lead Carpenter System.
Do not modify the system to reflect any limitations of your existing business.
Train your employees and yourself on the system, including the benefits.
If looking to hire a Lead Carpenter, use this job description for a lead carpenter to determine if the candidate really is a Lead Carpenter.
Start implementing a piece at a time; assume it could take 1-2 years.
Get feedback about the system from your employees and clients.
Monitor the system's performance right from the start.
Achieve a volume and mark-up that profitably supports the full system.
Constantly discover ways to improve the system.