Contractors Should Know About These Popular New Sink Styles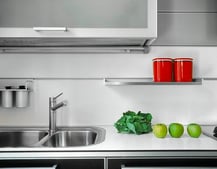 The kitchen is one of the most desired spaces for a home remodel. This should come as no surprise as this area is often the gathering place of friends and family. Today more than ever, homeowners are all about customizing this area of the home. Contractors can better serve their customers by knowing and differentiating the trending sink options available in the marketplace.
In addition to knowing the current trending sink styles, contractors should also be knowledgeable about popular faucet options, too. A helpful online resource, such as Angie's List, can allow for contractors to read up on what homeowners are seeking out, from pull-down to touchless faucets.
These are the sink style trends that are popular among consumers right now.
Drop-In
Drop-in, also called self-rimming sinks, is one of the most popular styles and also very easy to install. With this style, its weight is supported by a rim that runs above the countertop surface. These types of sinks are available in different materials including stainless steel, enameled cast iron and porcelain. Not only are these sinks affordable, they are also durable and easy to clean, earning them a top spot on the consumer's most desired list.
Undermount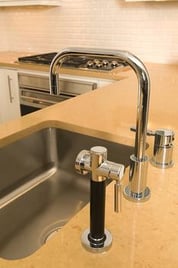 Installed below the countertop, undermount-style sinks offer consumers an easy cleanup in the kitchen and a seamless look. However, contractors should know that this style of sink can only be used with solid-surface kitchen countertops, such as granite, composite or marble. Undermount sinks are an affordable option, and like drop-in sinks, these are available in a variety of different materials — like enameled cast-iron — for example, and colors to fit a kitchen's design.
Integrated Quartz
A popular choice among homeowners who prefer quartz countertops in their kitchen, this style of sink offers a seamless and sleek look. It is built into the countertop using the same color and materials as the countertop. Today many manufacturers, such as Cosentino North America, are offering this style of sink as an option when installing quartz material countertops in the home.
Porcelain Apron
These sinks are made to resemble the old-fashioned style of sinks that were often found in farmhouses. Quite large and made from materials including the popular porcelain option, stainless steel and even copper, they're hardy and can stand up to whatever task needed.
Integrated Marble
Although similar to the integrated quartz style sink that is built-in using the same materials as the countertop, this kitchen sink trend has a more luxurious flair because of its material. Natural stone marble, which is pricier than quartz materials, is available in a wide variety of stone colors, which makes it easy for homeowners to customize and also clean, offering a seamless design for the kitchen space.
Bamboo
This sink style is not yet mainstream but it is gaining popularity for its unique and exotic appeal. Bamboo has long been a staple in home design and decor for its durability and eco-friendliness. With a water-resistant coating, a bamboo sink can make a kitchen truly stand out.
Food Prep Sinks
Sometimes homeowners want to add more than one sink to their kitchen and cooking area. This is called the prep sink. This style of sink is available in styles like a crescent moon shape, for example, often offering a modern and unique look to a kitchen. This is handy if a homeowner plans to entertain frequently.