Simple Profit Sharing Plan For Contractors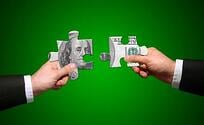 Recently, several of the contractors I work with have asked for help developing profit sharing plans. Because they are looking to take advantage of the benefits of profit sharing I thought others may want to consider a profit sharing plan at their remodeling businesses as well.
Profit is the reward a business and the business owner earns for the risks taken by being in business. Profit sharing is in effect a type of reward program for company employees. It is based on sharing a percentage of the total profits earned by the company with the employees who helped earn it. Profit sharing plans are used to help encourage and foster employee awareness and participation in creating, protecting and maximizing the profit earned by the business.
Open Book Management:
Open book management is the process of sharing in detail the company's financial statement with the entire staff on a monthly or quarterly basis. If you want your employees to contribute to protecting and earning profits you'll need to share financial information with them and help them understand how to interpret and use that information.
Why Profit Sharing and Open Book Management?
Both can increase collaboration between office and production staff to help improve efficiency and productivity.
Everyone has a stake in working together to eliminate waste and duplication of effort.
Because the responsibility as well as the benefits of profit are shared, team members take ownership in the company's profitability and health.
Open books and sharing of profit can create a trusting and supportive environment for all involved.
Creating a Profit Sharing Plan for Your Construction Business
Creating a profit sharing plan can be very involved process. Lots of details, way more than can be included in a short blog post, need to be considered before offering the plan to employees. If not well thought out before it is introduce, mid stream changes to the plan may cause employees to lose their confidence in the plan and the business.
Sample Plan
Below is an illustration of how a simple profit sharing plan might work. This plan is based sharing 10% of a company's planned net profits with all employees. With this plan pay-out to employees for profits earned each quarter would be 50% of the profit sharing earned with the balance paid after year end final accounting has been completed. Also, in the example below if quarterly profit goals are not reached, employees will not receive profit sharing funds during that quarter, but may still get the money earned for that quarter at the end of the year if the overall performance for the year proves successful.
Annual profit goal: $100,000
Quarterly profit goal : $25,000

Based on the example above, assuming you have a total of 10 employees on staff:
First Quarter – no profit sharing would be paid
Second Quarter –each employee would be paid $150 in profit sharing (50% of $300)
Third Quarter – no profit sharing would be paid
Fourth Quarter – each employee would be paid $200 in profit sharing (50% of $400)
If Annual Goal is achieved – each employee would be paid an additional $650 in profit sharing
Total bonus paid to each employee for this example ………. $1,000 ($10, 000 ÷ 10 employees)