Breaking Past $1M in Remodeling: Getting Ready To Do It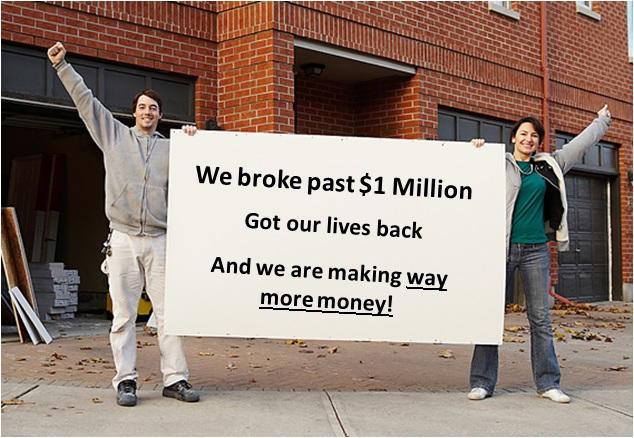 (Note: This is the third article in a series of articles written specifically for remodelers who want to successfully break past doing $1M/year in installed sales. Click here to see a list of all the article in the series that have been published so far.)
In a previous article I discussed how important it is that a remodeler decides whether he or she wants to remain a contractor or become a construction business owner before passing the $1 Million threshold in remodeling. Again, either choice can be a good one, but if you want to keep growing your business and offer growth opportunities to great employees, you need to become a construction business owner.
In yet another article I stressed the point that putting off that decision can lead you and your business from controlled chaos into disorganized chaos. The disorganized chaos happens because the labor intensive and disparate systems being used that got the business to $1M are no longer adequate to handle the increase in activities that come with the additional growth and inherent risk. You can read my article titled "Invest In Your Remodeling Business Now Or Pay Forever" for more on this topic.
Before you decide to become a construction business owner
Becoming a construction business owner can be very rewarding for many reasons. It's also not a very easy thing to do successfully. It will take time, money, patience, vision, leadership skills and diligence. Before you make the jump check out the business owner considerations and the business goals below. These are the kinds of things you will need to work on to help get yourself and your business on the path to successfully break past $1M and increase profits at the same time you grow.
Remember, growing your business faster than your systems can handle is the most common reason for construction business failure.
Business Owner Considerations during the Take-Off Stage:
Owners should seek to put a more refined structure in place for the purpose of better, faster, and more accurate information. This is a critical step towards the owner's ability to evolve away from the micromanagement of employees.
The owner should develop measurement milestones and incremental check points relative to a achieving a refined long term vision for the business.
The owner must learn to recognize, adapt to and take advantage of changes in the market place, because a lot of changes will happen over the time it takes to grow the business.
The owner should seek to add mid level management employees as soon as possible assuming earned gross profit and/or reserve funds can support the required overhead.
The owner must focus on implementing critical and timely business adjustments identified by business reports, trends and the opportunities brought to light due to an advancing schema.
Goals during the Take-Off Stage:
Develop the ability to track business activities without relying on the hard drive capacity of the owner's CPU (brain and memory).
Start the process of developing written job descriptions for how business should be happening.
Increased use of standard repeatable methods and create supporting documentation and forms.
Give salespeople the support they need to support sales less on their own, sell more and keep them selling profitably.
Develop standard contracts and agreements, reviewed by legal counsel to protect the business.
The ability to collect supporting data company wide electronically.
The ability to manipulate and interpret the data.
Add and ramp up a full time sales person to relieve the owner of some sales volume, allowing the owner to concentrate on other high level activities.
Train and allow lead carpenters to be owners of their projects and managers in the field.
Identify a production manager candidate, preferably from within the existing lead carpenters.
Mentor the production manger candidate into a full time role.
Accumulate cash reserves adequate to finance your ability to grow into the next stage.