Unhappy With Government Policies and Regulations Affecting Remodeling Business?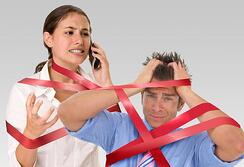 On February 5, 2013, the nonpartisan Congressional Budget Office released a projection that the economy will remain slow this year. Unemployment is expected to remain above 7.5% through 2014 for a sixth consecutive year, the longest stretch in the past 70 years. While the CBO forecasts that the nation's yearly deficit will dip below the trillion dollar threshold, it is projected to rise again later in the decade. Responsible spending reductions are needed to change that trajectory. By 2023, the national debt is projected to equal an unsustainable 77% of the nation's economy (Gross Domestic Product), and still be going up.
Recently, the House Small Business Committee launched a new resource to help small businesses help shape federal regulations and add some real world common sense to the process. This initiative, "Small Biz Reg Watch," will highlight proposed regulations that will likely affect small firms, and inform business owners of how to make comments to the appropriate federal agency.


Chairman Sam Graves Discusses Small Business and the Economy
Make Your Opinion Known
Most small businesses do not have lawyers or lobbyists to help them with regulatory compliance, like some larger corporations do. Not all regulations are bad, but many can be unnecessarily burdensome, so it is important that small companies get to express their concerns before rules become final. Small businesses bear a regulatory cost that is much higher than the cost of compliance for large businesses. This initiative will help small companies make their voices heard.
On select proposed rules that impact a large number of small businesses, the Committee will communicate about the regulatory comment period via email, social media, and even district events around America. Small businesses are also encouraged to join the hundreds of small firms that share insights with the committee at their interactive web platform, "Small Biz Open Mic."


Note: Most of the content of this blog post comes from the Weekly Update email newsletter published by Sam Graves, Chairman of the House Committee on Small Business. Click here to sign up for the weekly e-mail newsletter and other e-mail alerts.