Extra-Rugged Accessories Contractors Need for the Construction Site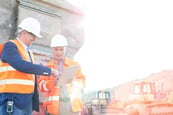 If you're a contractor who spends any time at all on construction sites, you need extra-sturdy accessories. In some cases, these products are a safety issue — such as a hard hat — and in others they are merely the tools you need to stand up to the tough conditions found on active work sites. With this in mind, check out these suggestions for durable accessories that can stand up to harsh conditions — or at least come with a great insurance policy.
Unbreakable Sunglasses
In addition to your usual protective eyewear, you may also like to wear sunglasses while meeting with clients or checking out potential jobs or building sites. Instead of replacing your sunglasses every time they break while on the job, invest in an "unbreakable" pair. Amazon sells Polarized TRPL27 sunglasses with a flex frame that are ultra light and ultra tough. The lenses are polarized to eliminate glare, and the sunglasses come with a lifetime breakage warranty on both the frame and the lens.
Smartphone With a Protection Plan
If you've ever dropped a smartphone, you know what a pain it is to deal with a cracked screen and the expense of buying a new one. While rugged smartphones are not easy to find, you can get a high-tech smartphone that comes with a protection plan. For example, the HTC One M9 from T-Mobile comes with the appropriately named UH OH Protection Plan that replaces the phone at no charge if it's cracked or dropped in water.
Tough and Comfortable Gloves
Depending on the time of year you are visiting work sites and how close you get to the actual construction, you should have a comfortable and durable set of protective gloves. The ideal pair of gloves should be thick enough to protect your hands against punctures and cuts, but still be easy to grip objects and move your fingers. Construction Concepts International sells a variety of gloves that are perfect for contractors. The Strong Suit "Second Skin" Work Gloves feature palms made of polyurethane for proper protection and form-fitted fingers for great "gripability." These gloves are sturdy enough to last through several jobs, so you won't have to replace them very often.
Sturdy Boots
While on the job, work boots are a must for comfort and safety. If you notice that you have to replace your work boots every few months, you might want to spend a bit more for something that will last. Sure, you can get work boots for $50, but if they wear out fast, they are not really a good deal. Invest in a pair of Moc Toe Work Boots from Duluth Trading; they run close to $200, but they are made from the highest grade of leather. Featuring Vibram wedge soles, the Moc Toe boots are sturdy and durable. As a bonus, you can replace parts of the boots that wear out, such as the soles and gel inserts.

Guest Blogger: Alison Stanton has been a freelance writer for the past 15 years. She enjoys writing about a wide variety of topics, and always looks for opportunities to learn about new subjects.