Guest Blogger: Jeff Fierstein is the General Manager at Byers LeafGuard Gutter Systems located in Grass Valley California. Jeff had posted a comment to a discussion I started at the NARI LinkedIn group. The discussion was about a blog I posted titled: "Why Some Contractors Can Raise Their Prices But Most Others Can't". I decided to use his comment as a guest blog, thanks to Jeff for allowing me to share this with you.
Contractor Gets Sage Advice From A Competitor About Selling At Cheap Prices

When I was a young man a competitor of mine, several years my senior, named Tommy O'Connell pulled me aside. He pulled a $100.00 bill out of his wallet and told me he always kept that bill in his wallet, "Never sell from an empty wagon" he said. I was young and didn't much care for Tommy so I thought he was full of crap, but he explained that if you're broke and need a sale too much, you'll have a tendency to sell too cheap. That was actually sage advice. In this economy, there are many contractors that are living hand to mouth. Without the skills they require to sell their services at the price they deserve, they resort to "selling" a cheap price. They either don't understand that to stay in business they need to include a profit, or simply cut corners and provide a sub standard job. This may be a good indication why an overwhelming number of home improvement contractors fail within their first two years of business.
"Never sell from an empty wagon"
In our early days, we would bid like crazy, leave bids on the doorstep, and wait for the mailman to come. The only thing that saved us from ourselves was our bid package was detailed enough to outshine the competition who was also waiting for the mailman.
We've all heard it, what got us here, isn't going to get us where we want to go.
Today, the only way we would leave a bid on the doorstep is under duress. Sure there are exceptions to the rule but unless we get a chance to explain our bid in detail and ask for the business, we might as well not bid. We spend a great deal of effort to train our sales force how to build value and ask for the order. We know that there is competition in our field but generally find them easy to outsell at the price we need to be around tomorrow.
For those concerned about selling against contractors that sell too cheaply...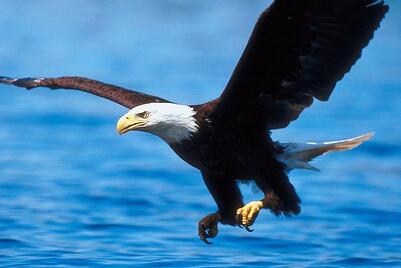 There is an ancient roman proverb that comes to mind; AQVILA NON CAPIT MVSCAS
"An eagle doesn't hunt flies"