Creative Driveway Designs Can Bring Attention To The Rest Of The Project

The driveway is among the first things visitors and passersby see when they look at a house. Like the front door, the driveway creates a lasting impression and perception of the home and because of this; it's the perfect time to try something a little unconventional. Even more than the front door, the driveway has to be functional as well as visually appealing, as it's a service area of the property. Plus, a really cool driveway design can bring the contractor more business from the customers' neighbors asking, "Who did your driveway?"
Not Their Father's Driveway
Your clients may have memories of their dad brushing smelly black sealant on their childhood home's driveway or patching cement cracks with a trowel and wet cement. But those are not the only options for driveway surfaces. A driveway's appearance is limited only by your customer's budget and (hopefully not) your creativity. Gravel, pavers, natural crushed shell, brick, basalt, permeable (or pervious) concrete and recycled materials are just some of the possible materials you can use to design a unique driveway.
Factors in Driveway Design
Contractors and consumers should take a few things into consideration when designing a driveway. Budget is an important factor during construction and installation, but don't forget driveway maintenance over time. The materials used to construct the driveway, as well as its style, should complement the house, not clash with it, as well as be durable with a layout that is logical and easy to navigate by foot and vehicle.
A driveway created with pavers can be one of the best values, providing beautiful design possibilities, with low maintenance and a long shelf life, commonly lasting 30 to 40 years. Crushed shell driveways offer soft colors and good drainage, while pervious concrete made with almost no sand deliver a light, porous surface to avoid run-off issues.
Mix N Match and Layouts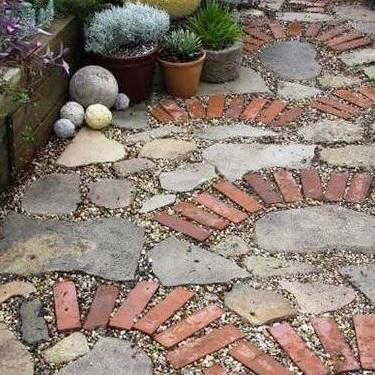 To help your work stand out from other contractors don't settle for the same old same old when it comes to designing driveways for your clients. You can mix and match materials like asphalt and brick border, or broken concrete and gravel. Instead of a straight path from the street to the garage, consider a rolling driveway layout to add some sensuous curved lines to the property.
Hiring a qualified sub contractor to perform the work is often the best route. But if you would like to do all or even some of the work in-house you can rent the equipment you need to do it right. Compactors, electric hammers, and other equipment are readily available as long as you know what you will need.
Creative Borders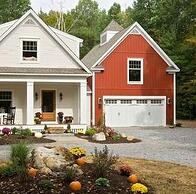 Creative borders go a long way toward creating an attractive driveway. Liven up a traditional straight driveway by planting a low hedge on each side, plus a decorative flowering tree for more vertical interest, such as a dwarf flowering crabapple tree. Add interest with grass between pavers or broken cement. Use a homeowner's favorite design element or theme to line or highlight the driveway with split logs and tree trunks or a mass planting their favorite flowers.
Beautiful, unique driveway designs add a visual highlight as the first part of a property to be seen and used before arriving at the front door. It's worth the extra effort to think more about materials and plan a unique part of the property that everyone passing by will see and your customer's will enjoy for years to come.

Guest Blogger: Heidi Cardenas is a freelance writer with a background in human resources, business administration, technical writing and corporate communications. She specializes in human resources, business and personal finance, small business advice and home improvement.