Contractors, Who's Helping You Grow Your Business and Make More Money?
Back in September I did a blog about how manufacturers and vendors partnered together with the RI Builders Association (RIBA) to offer free education to remodeling contractors and builders. The program was really a training boot camp offered as a series of five complementary workshop sessions purposely assembled to help the attendees improve their businesses, sales volume and profitability.
In case you missed it here is the list of boot camp topics offered: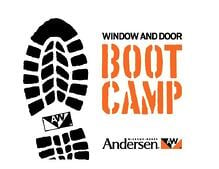 Small Business Finances and Profit Strategies for Non-Accountants
Estimating Workshop: Know What You're Selling Before You Sell It.
Marketing Boot Camp: Targeting the Right Customers
Sales Workshop-Smart Selling for Tough Times
Production Workshop-You Sold It Now You Need to Build It
The Boot Camp wrapped up with a production workshop
On Thursday night last week we completed the last workshop which was about production. Because of what attendees had learned at the previous workshops they could see that producing their projects could be much more efficient and profitable. And, because of the systems and paperwork shared at the workshops, their business could now easily assemble a project handoff package that would allow their production employees to build the project on their own. Basically, because of the help of the sponsors of these events the business owners in attendance could free up more of their time to concentrate on selling more work. And, what they learned will help them close deals much faster.
Here are a couple of slides from the presentation:
Essentially, offering the boot camp was mutually beneficial for the sponsors and the attendees.
Both now have the opportunity to enjoy more business!
Credit to RIBA and the sponsors!
I received a nice email message right after the sales workshop from Joe Cracco. Joe has been the Chair of the RIBA Remodelers Committee and also is the president of Modern Yankee Builders, Inc in Cumberland RI. Here is what Joe had to say about the boot camp:
"Thank you, Shawn, for coming to RI Builders Association's office yesterday evening to present "Smart Selling for Tough Times". And just as importantly, thank you to Douglas Lumber, Andersen Windows and James Hardie for sponsoring the seminar. It was great to see a packed room...and why not? ...free education to allow all of us in attendance to work smarter.
I can't get over how great it is that RIBA and the sponsors are providing this opportunity. It's evident that RIBA's commitment to education as a benefit of membership is going to be a huge value to our members...and you provide a huge value in the educational arena. Nicely done. I'm looking forward to the next workshop on November 14th."
I'd like to offer a personal thank you to all the sponsors who helped make this happen. Because of them many more contractors are enjoying better businesses, earning higher profits and their owners are sleeping better at night!
Here are all the logos of the businesses that sponsored these events. You can click on the logos to go to the web pages for each of these businesses.
| | | |
| --- | --- | --- |
| | Brought To You By | |
| | | |
| | | |
| | | |