A Fast, Clean and Safe Way to Remove Lead Paint

One Person's Opinion: Catherine Brooks, MBA is the owner of a small business, Eco-Strip LLC since 2003. Previous to starting this second business, she owned a consulting practice and worked for 20 years with small private companies, local and state governments, and OSHA. Her specialties were public health, recycling, and executive training. She comes from the Eastern Shore of the Chesapeake Bay. There she learned the hard way that moisture can destroy a paint job. She regrets that she power-washed her older home several years ago and SOON will now have to repaint it.
A Fast, Clean and Safe Way to Remove Lead Paint
Good painters know that surface preparation before repainting is critical for quality and longevity of new paint. They also know that thick paint removal is a pain. Plus, most paint applied before 1978 is lead-based. With the new EPA's RRP rule, dry abrasive methods such as power sanding, power planing, and mechanical scraping without vacuum attachments are prohibited; so is high temperature heat gun usage. These methods create and disperse lead dust, chips, and vapors which are seriously harmful to children and adults. Some contractors are upset with the requirements imposed by RRP, but the US is way behind European countries in regard to lead paint safety.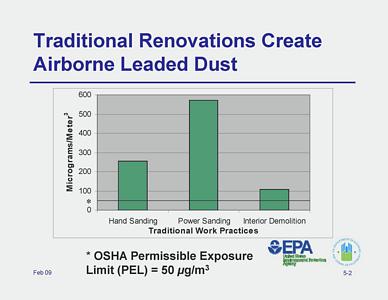 In the late 1980s, a safer and more eco-friendly method was developed in Sweden by a historic restoration painter. This method uses mid-range, infrared heat waves to heat both the substrate and the paint at a lower temperature. Therefore, it greatly reduces the hazards of removing lead-based paint in three ways:
Metallic lead vaporizes at 1,100°F (the temperature at which high heat guns operate). The mid-range infrared heat waves heat the paint and wood only to 400-600º F. Dangerous lead fumes are not released.
Containing lead dust is difficult and costly but critical to prevent operator, building occupants, and the environment from being contaminated. The scraping of the soft paint created by the infrared heat generates minimum dust; dry scraping, sanding or shaving paint creates lots.
The soft paint scrapings clump together and drop onto a plastic sheeting; they are easier to contain and bag up. While pressure washing surfaces may be faster, it leaves water full of paint chips in the work area's soil, making it difficult to clean up without removing the top soil itself. Use of toxic or non-toxic chemical paint removers leaves messy goo also difficult to contain.

Another key consideration in paint removal is the impact on wood, especially old, more valuable wood. Chemicals leach out natural resins and leave residue even after rinsing. High heat (1,100ºF) guns force paint pigment back into the wood and risk scorching and igniting wood. Sanding and shaving leave gouge and burn marks if not done skillfully. Pressure washing and new steam paint removal methods often leave irregular surface marks in the wood, drive moisture back into the wood, and create layers of "gray wood" which must be scraped away and or they will threaten the adherence of new paint. All of these methods can damage wood.
Infrared heat paint removal can be the gentlest process on the wood. The infrared heat penetrates into the wood and pulls up natural resins, paint, and moisture deep within and rejuvenates the old wood. Yet, the lower temperature of 400-600° F. minimizes the risk of scorching the wood or catching it on fire. The stories of these heat gun fires are legendary.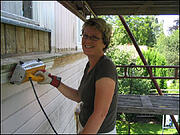 The time for the entire surface preparation process is reduced using the infrared heat method. Set up, operation, and cleanup are faster than with other methods. There is no extra time for rinsing, neutralization, drying, or sanding the wood; it is immediately ready for primer.
Since there are several brands of infrared paint removers on the market, look for these qualities:
UL listing to verify safety testing.
Shock absorbers to reduce bulb breakage.
Automatic, overheat shut-off mechanism to prevent damage to the machine and the wood and to prevent paint overheating.
Built-in safety shields extending beyond the infrared bulbs that set the correct distance between the bulbs and the painted wood. These shields eliminate the operator's guesswork about what distance is safe yet effective and also reduce overheating.
Comprehensive instruction materials and training videos to assure quick operator proficiency, safe operation, and proper maintenance of the machine.
Infrared heat for paint removal is a new technology whose time has come. Preservation of older homes rather than demolition is growing. People are choosing to rejuvenate their old homes for aesthetic, historic, and ecological reasons. Infrared paint removal offers a safer, gentler, and more ecological method to remove lead-based paint and bringing old wood back to life.
Contact: Catherine Brooks, Eco-Strip LLC with questions at cbrooks@eco-strip.com. Further information is at www.eco-strip.com