Sample RRP Contractor Letter to State and Federal Representative
Sample RRP Contractor Letter to State and Federal Representative
Click here to view and or download the letter as a MS Word document
Dear <Politician's Name>:
I am a professional, law-abiding contractor. I carry the proper insurance. I always pull permits for jobs. I understand and follow the law pertaining to the proper classification of subcontractors. When I learned that the EPA Renovation, Repair and Painting Rule (RRP) was due to go into effect 4-22-10, I took all the proper steps to have my company, my employees, and my subcontractors certified. This compliance has cost me dearly in dollars and time. I paid $300 to certify my company. I paid roughly $250/person to get myself and my employees RRP certified, plus I had to pay for a full day's wages for each employee with no billable time. Using work practices that conform to the training guidelines will also cost me in time and dollars. In addition to the various dubiously realistic dollar estimates of additional hard costs (HEPA vacuums, plastic, disposable protective clothing, tape, signage, etc.) required by compliance, there are costs created by lowered production efficiency. All these costs must be sold to customers, many of whom have no knowledge of the RRP rule or the lead issues behind it.
Contractors, like other business people, understand that it takes money to stay in business. If my company wants to compete, I need to spend money on vehicles, tools, and uniforms. As long as all contractors are in the same boat, the playing field is level. When I see my competitor's truck, I know he's spending about the same as I do in order to maintain a professional image. Fair is fair.
What's not fair is the fact that a blend of inadequate public education and lack of enforcement has led to many contractors simply ignoring the entire issue. They continue to perform work on pre-1978 homes using methods that have been deemed unsafe, and they are able to sell their work at a lower price. Many uninformed customers, strapped for cash, are surely going to choose their contractor based on the price he quotes.
This produces multiple negative results. First, compliant contractors are penalized for following the law. Second, non-compliant contractors are enjoying what amounts to amnesty as enforcement is regarded as a joke. Third, homeowners, their children, the employees and family members of the non-compliant contractors continue to be exposed to what the EPA claims are dangerous levels of lead.
Speaking of the dangers of lead poisoning, from my RRP training, I understand that this rule was put in place to protect children from elevated blood lead levels. The pamphlet also says lead exposure can come from other sources, such as outside soil, water, and household items. Recent news stories have also warned us about lead found in toys.
I have included two charts below in the body of this letter. The first is a chart from the Center for Disease Control (CDC) showing that the number of children aged six and under with elevated blood lead levels has decreased dramatically (87%+/-) in the years 1997-2007. Although the number of children tested almost doubled during that period, these levels decreased for 10 years straight, all before this new rule was put in place.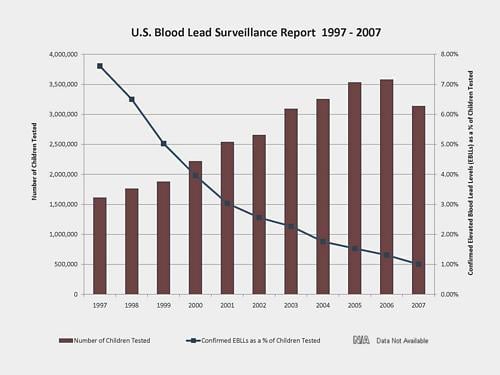 The second chart is from a Harvard University Joint Center for Housing Studies report. It shows that during the same time period, remodeling spending activities more than doubled.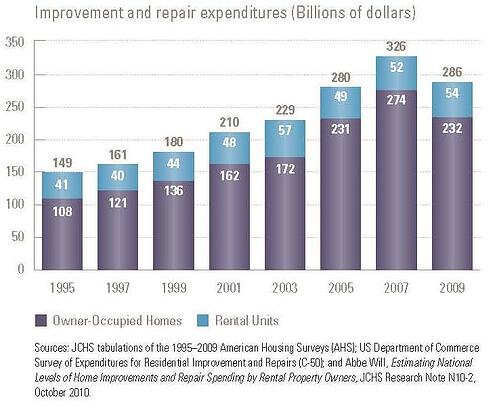 Considering that both charts include the same 10 year period (1997 – 2007), it's obvious that the number of children with elevated blood levels decreased dramatically while remodeling activity increased steadily, more than doubling. Given these charts, wouldn't it be equally valid to conclude that remodeling activities actually reduce blood levels in children under six over a 10 year period? If that is a ridiculous conclusion, I must ask what facts and figures were used to conclude that remodeling activities, and not other causes, were the major source of elevated blood lead levels?
This is a time when unemployment remains high and national debt is growing. Small business owners are struggling to stay in business and contribute to the employment of others. What justification can there be for mandates that create hardships for American small business people without evidence that they actually accomplish their objectives? To what extent has the cost of legislating and providing training for this questionable rule resulted in improved health? Nobody wants to stand in the way of keeping children healthy. However, in light of the decreased cases of lead poisoning, I question whether the dubious gains warrant the undeniable costs imposed on compliant contractors and passed along to homeowners. If the lead problem created by renovating, repairing, and painting pre-1978 structures is that dangerous, then enforcement should be paramount. It would not only indicate a commitment to the rule, but would level the playing field by requiring non-compliant contractors to become compliant.
I have been unable to find any documumentation that shows renovation, repair or painting activities to be the causative agent of lead poisoning among those children displaying elevated blood lead levels. I request that you share any such data with me so I can better understand the reasoning behind, and even support, the RRP Rule.
In light of the facts I have shared in this letter, I request a timely response from you about your position regarding the validity and practicality of this rule.
Your Constituent,
<John Doe>