RRP HEPA Vac Options That Meet EPA Requirements
The following information comes from the EPA RRP Info page of my web site. It is included at the end of an article titled "Choosing The Proper Commercial/Industrial HEPA Vacuum Cleaner", written by Barry Cohen, the owner at Absolute Air Cleaners, Air Purifiers, & Allergy Products
D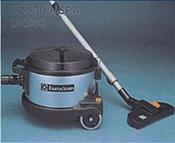 isclaimer: This post is shared for informational purposes only. I have no experience or any financial arrangement with these companies.
These links were suggested by others in the industry as options to consider when searching for a HEPA vac. Feel free to suggest additional sources and or suppliers of HEPA vacs to include on RRPedia. If you are a renovator doing RRP work feel free to post a comment about your experience with a HEPA vac.
If you are a HEPA vac manufacturer and you would like me to try out and review your product feel free to contact me.
All current Festool CT Dust Extractor models have been independently tested and certified to be FULL UNIT HEPA Dust Extractors. When you purchase a new Festool CT Dust Extractor, regardless of model, you will find a printed certificate in the box as well as labeling on the dust extractor documenting its Full Unit HEPA certification.
Nikro offers a complete line of critical filtered vacuums for use in removing asbestos, lead, toxic, and nuisance dusts or other applications were H.E.P.A. filtration is a must.
One of the big advantages of the Dustless HEPA Wet/Dry Vacuum is the optional Micro Pre-filter that greatly extends the life of the HEPA filter. The Micro Pre-filter is an inexpensive disposable filter that captures the vast majority of the dirt and dust before it reaches the more expensive HEPA filter.
Industrial Vacuums has supplied vacuums to industry, contractors, home users, fire departments, and federal, state and local government agencies since 1992.
Pullman-Holt HEPA Vacuums are designed for the efficient recovery of asbestos, lead, mold and many other hazardous materials. Each model meets or exceeds all EPA, OSHA and RRP filtration requirements.