RRP Letter Templates To Send to Politicians
Use and Share These Letter Templates to Express Dissatisfaction With the RRP Rule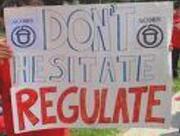 Many Contractors and Home Owners have expressed their dissatisfactions and concerns regarding the RRP Rule. Politicians and our government are responsible for creating the rule. Perhaps it's time they defend their actions or, alternatively, use their positions to cause our government to rethink its approach to preventing lead poisoning.
The purpose of the rule may be well intentioned, but so far the EPA has done a terrible job creating, implementing, enforcing and promoting the rule to contractors and the public. In fact, although science proves lead can be hazardous, our government does not have any real data to prove that renovation, repair and painting work is actually poisoning children or adults. As is pointed out in the letters, renovations may actually be doing more to reduce lead poisoning than cause it.

To help contractors and home owners express their dissatisfaction with the rule and the negative effects the rule is having, three letter templates are offered below. There is one for specifically for contractors, one for home owners who have done remodeling and one for homeowners and their neighbors to use, whether or not they are planning a remodeling project or own a pre-1978 property.
Text in the downloadable letters that is highlighted in yellow indicates where you should replace text. Modify the letter templates as needed to address them to specific politicians and to reflect your local situation. For example, if you are not in an EPA administered state, change the letters as needed to address your state's specific regulation. For example, if in Massachusetts replace the text that refers to the EPA Rule with:
"MA RRP Lead-Safe Regulations that went into effect on 7-9-10 due to the new EPA RRP Rule that went into effect 4-22-10."

Special thanks to Ray Douglas, an RRPedia guest blogger, for putting together the original drafts of these letters. Be sure to check out his guest blog that triggered the idea to create the letters.

Special thanks should also go to my good friend Melanie Hodgdon of Business Systems Management for helping Ray and I by editing the letters and suggesting some of the content.
Note: Let me know what you think of the letters and about any responce you get back from using the letters.
Click on the letter titles below to view and/or download the letter templates:
Sample RRP Remodeling Customer Letter to State and Federal Representatives
Sample RRP Home Owner Letter to State and Federal Representatives
Sample RRP Contractor Letter to State and Federal Representatives