Guest Blog: Making RRP Easier – The RRP Training Suggests Doing Way More Than The Rule Requires

Guest Blogger: Dean Lovvorn is a residential remodeler who has done numerous RRP projects. He is also a Lead Inspector, Lead Risk Assessor and EPA RRP Renovator Instructor.
Making RRP Easier – The RRP Training Suggests Doing Way More Than The Rule Requires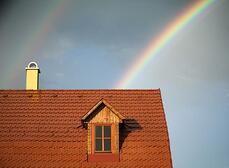 Back in April 2010, I had an exterior remodeling job that was put on hold for a day because of heavy rains. In my boredom, I decided to read the actual RRP law from start to finish. Honestly, it was like watching paint dry (incredibly boring).
However, as I continued reading, I soon discovered that what I was taught in my 8 hour class and what was in the student manual wasn't necessarily in the actual law itself.
My Discoveries - In the actual law I found:
There was no mention of having to wear disposable suits, dust mask, booties or headwear. (Still might need to comply with OSHA)
That I didn't have to put construction debris in a heavy duty plastic bag. I had to at final clean-up, but not when taking out demolition debris.
There was no requirement to put plastic over windows.
That there was no mention of putting yellow warning tape at 20 feet out on exterior jobs.
That on many jobs, the only paperwork required was a signed receipt of the Renovate Right booklet and completing the record keeping checklist. This takes me about 5 minutes to do.
It didn't say I had to use 6 mil plastic, which made me happy since the 3.5 mil plastic sold at Home Depot cost less.
I didn't have to mention (if I didn't want to) anything about RRP during my sales presentations or while giving estimates. This was especially helpful, because clients don't want to hear about being lead poisoned … they want to hear about their beautiful renovation.
Watch for Dean's next guest blog where he describes the work practices he now uses to make RRP easier at the job site