Under the EPA RRP rules Certified Renovators and Certified Firms are required to have certain documents with them at certain times and must also create and store certain records related to the projects they work on that fall under the EPA RRP Rule. Documents related to projects that fall under the RRP Rule must be stored and, in the case of an audit, be available to the EPA for inspection for a period of three years.
Depending on the work performed, who sold it and who did the work, some or all of the following may be required:
Copy of the Certified Firm and Certified Renovator(s) certifications
Non certified worker training documentation
Proof of notification and or pre-education of owners, tenants, and or the parents of children attending child occupied facilities.
Designation of Certified Renovator to the job
Information on and results of the use of EPA-recognized test kits provided by a Certified Renovator who acted as a representative on the Certified Firm at the job site and who conducted testing for the presence of lead-based paint on surfaces to be affected by the renovation
Lead based paint inspection reports provided by a Certified Lead Inspector or Certified Lead Risk Assessor, if applicable
Any other signed and dated documents form the owner(s) and/or residents regarding conduct of the renovation and requirements in the EPA RRP Rule
All reports required from the Certified Firm and Certified Renovator by the EPA RRP Rule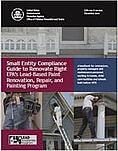 Rhode Island administers their own RRP program. Here is an addition documentation consideration related to renovation record keeping for those operating in RI:
"A log book with consecutively numbered pages is maintained at each job site which contains the names, license numbers, and dates/times in and out for all Lead-Safe Remodeler/ Renovators gaining access to a containment area."
"Ensure that unlicensed workers trained pursuant to §14.4(b)(2) and all other persons who enter a containment area print and sign their names in the access log book documenting the date and time entering and leaving the containment area."
Note: As of July 9, 2010, Massachusetts has also taken over enforcement and administration of the RRP rule. Massachusetts has a similar log book requirement to the one described above for Rhode Island
If you are looking for forms and signage to help you with comply with the EPA RRP rule, I recommend you check out what The Lead Paint Forms Store has to offer.