Landlords Need To Be Aware Of The Recent EPA RRP Rules

Being a landlord brings with it many legal responsibilities related to lead paint that, if not followed, can certainly eat away at any potential profits. There are many rules to consider and be aware of, the most common being the lead disclosure rules. Federal rules are one thing, but different rules in different states and different cities can make it quite difficult for landlords to be confident they are complying. Ignorance of the rules is not an excuse.
Lead disclosure related rules effecting landlords have been around for some time now. Still, many landlords are not aware of them and even many who are aware have been getting away with ignoring them. The EPA typically only proactively audits "bigger fish", like large apartment complex owners, rather than landlords with fewer properties. However, when tenants complain about or sue a landlord, their lawyers will often also use lead disclosure compliance as an additional weapon in their arsenal. Now there is a new weapon tenants and their lawyers can use as well.
Many landlords are not aware of the new RRP Lead rule which must be followed when repairs, renovations, painting and or maintenance is done on their rental properties. In addition to certain required lead-safe work practices, the RRP rule also includes building occupant notification requirements. These requirements must be met when working in a tenant's unit and or if work is to be done in common areas on or in the rental property. The rule requires that tenants be made aware of the work to be done and where it will be done in advance of starting the work. Click here to access a list of short videos explaining the RRP Rule.

When work is done inside their units, tenants must be given an EPA published pamphlet titled "Renovate Right". The pamphlet explains the dangers of lead and what is required to protect their and their family's health and safety when work is being done at the property where they live. If work is to be done in common areas, the pamphlet can either be given to tenants, or, notices can be posted telling tenants how they can receive the pamphlet at no cost to them. Tenants must also be given or made aware how they can request a document titled the "Renovation Checklist". The checklist documents the work done and the lead safe work practices used to do the work. Under the rule the landlord must maintain documentation proving these and other requirements were met.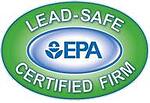 If the landlord does his own work on the rental property and or uses his/her own employees to do so, the landlord must also become an EPA Certified RRP firm and only use trained and certified workers to do the work. If you are a landlord doing your own work, click here to see the list of documentation you are required to create and store. If the landlord hires a contractor to do the work, the landlord does not need to be certified, but the contractor doing the work does. If a contractor does the work, the landlord is responsible to obtain from the contractor and store all documentation required under the rule. For violations of the RRP rules landlords can be fined up to $37,500 per day, per violation.
***Keep in mind that the RRP fines will be in addition to any fines related to disclosure rules.
Some states have taken over administration and enforcement of the rule from EPA. Make sure you know what specific rules apply to your situation depending on where the property is located. Click here to see a list of states that have taken over the rule. If you are a landlord seeking more information about the RRP rule use the tags on the right side of this page to help you find specific information and topics. Be sure to subscribe to this page if you would like to receive e-mail notification of new posting related to the RRP rule as they happen. Feel free to share this information with others.
NOTE: If you are a landlord, realtor or member of a group representing landlords or realtors seeking help and information about the RRP rules, feel free to contact Shawn McCadden for assistance. Shawn offers consulting services and informational seminars related to the RRP rule for landlords, realtors and other affected parties.