The EPA has established a specific definition for a HEPA Vacuum under the EPA RRP Rule. A Shop vac equipped with a HEPA filter will not satisfy the requirements of the RRP Rule. Using the wrong vacuum for RRP work could subject you to a $37,500 fine per violation per day of use of the wrong vacuum.
Here is the EPA definition of a HEPA vacuum taken from the rule itself: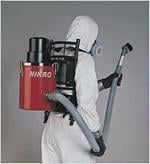 "Final rule requirements. Vacuums used as part of the work practices being finalized in this final rule must be HEPA vacuums which are to be used and emptied in a manner that minimizes the reentry of lead into the workplace. The term "HEPA vacuum'' is defined as a vacuum which has been designed with a HEPA filter as the last filtration stage. A HEPA filter is a filter that is capable of capturing particles of 0.3 microns with 99.97% efficiency. The vacuum cleaner must be designed so that all the air drawn into the machine is expelled through the filter with none of the air leaking past it."
The rule also further specifies the use of a beater bar when vacuuming carpets or rugs during final cleaning.
"After the sheeting has been removed from the work area, the entire area must be cleaned, including the adjacent surfaces that are within 2 feet of the work area. The walls, starting from the ceiling and working down to the floor, must be vacuumed with a HEPA vacuum or wiped with a damp cloth. This final rule requires that all remaining surfaces and objects in the work area, including floors, furniture and fixtures, be thoroughly vacuumed with a HEPA-equipped vacuum. When cleaning carpets, the HEPA vacuum must be equipped with a beater bar to aid in dislodging and collecting deep dust and lead from carpets. Where feasible, floor surfaces underneath area rugs must also be thoroughly vacuumed with a HEPA vacuum."
Renovators should think about the kind of work they do and related cleanup requirements before purchasing a HEPA vac. It might even be wise to have more than one depending on the purpose it would be used for. For example, a small HEPA vac might be easy to carry and adequate for small and or quick cleanups. But, dragging a small vac with wheels around a large work area might be cumbersome and dragging it around through dust and debris might contaminate the vac. On the other hand, a back pack style HEPA vac would be great for vacuuming the walls and or floors of a large work area.
Click here for an article about HEPA Vacuums, things to consider before purchasing one and some helpful links to manufacturers offering HEPA vacuums.
EPA Waffles on Which Vacuums Can Be Used to Clean Up Lead: This JLC article by Ted Cushman discusses challenges manufacturers are having verifying compliance of their HEPA vacs with the EPA requirements. In addition to the high price tag that comes with a HEPA vac, these same challenges are also making it difficult for renovators trying to choose which vac to purchase.