CCB Reminds Contractors of the Lead-Based Paint Safety Requirements in Oregon
Note: The following information was found on the CCBlog of the Oregon Construction Contractors Board (CCB)
---
The Construction Contractors Board (CCB) reminds Oregon construction contractors that enforcement of the new lead based paint (LBP) safety regulations continues in Oregon.
The new LBP requirements, commonly called "RRP" (Renovation, Repair and Painting) requirements, are federal EPA requirements that became effective April 22, 2010. States can apply to the EPA to administer the program.
The CCB began enforcing the new LBP requirements when the EPA authorized Oregon to "take over" the program in May 2010.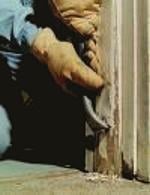 Contractors that remodel or demolition homes, schools, or facilities where children regularly visit, constructed in and before1978, are required to obtain from the CCB, a certified Lead-Based Paint Renovation (LBPR) Contractors license. To qualify, an owner or employee must complete the RRP training from an approved provider and complete a CCB LBPR application. The license is $50 a year and can be renewed annually.
The RRP training is an eight hour course that instructs contractors on the required practices to protect the public from lead contaminants. These standards of practice are found in Oregon Administrative Rule (OAR) 333- 070-0090.
"CCB recognizes the new requirements have made for tough state laws," says Richard Blank, Enforcement Manager. "At the same time, the agency takes seriously the enforcement of these laws for the protection of the public."
Fines for working without the proper licensing or violating standards of practice are $1000 (first violation), $3000 (second violation) and $5000 (third and subsequent violations).
###
Click here for more information on the Oregon lead-based paint laws for renovation work or to download the application for CCB's LBPR contractor's license.