EM NARI Members Attend Hearing To Encourage Assistance with RRP Rule in Massachusetts.
12/17/10

Yesterday Mark Paskell and I attended a hearing held by the Commonwealth of MA Executive Office of Labor and Workforce Development. Interested parties were invited to attend to provide suggestions to Joanne F. Goldstein, the Secretary of Labor and Workforce Development, regarding how the money appropriated to the Department of Labor (DOL) and the Division of Occupational Safety (DOS) should be spent in Fiscal Year 2012. Mark and I were there representing the Government Affairs Committee of the Eastern MA Chapter of the National Association of the Remodeling Industry (EMNARI) and also to share our own personal views. At the meeting we met Mark Casale of Painting and Decorating Specialist, a past National President of the Painting & Decorating Contractors of America (PDCA), who was also there representing his industry's RRP concerns and encouraging budgetary support related to RRP enforcement.
Although attending the hearing took time away from my busy work and holiday schedules, I was definitely glad I went. In addition to attending and submitting testimony at the hearing, before the hearing Mark and I also attended a meeting with the MA Division of Occupational Safely to discuss items related to the MA RRP rule, rule administration and rule enforcement.
As I have stated in past blogs and at the RRP Workshops Mark and I present to renovators and their staff, so far I have been very pleased with the efforts of the DOS regarding the RRP Rule. Under the leadership of Heather E. Rowe, the Department's Acting Commissioner, we have seen significant progress and improvements here in Massachusetts as compared to EPA's efforts and the EPA RRP rule. I have been fortunate to work with several DOS employees regarding the rule; including Patricia Sutliff, Ernest Kelly and Brian Wong. At our meeting with DOS yesterday, Heather Rowe was also in attendance. She expressed her support of our ideas, recognized our concerns and thanked us for assisting the DOS in dealing with this complex and often times confusing rule. DOS, as part of their takeover of the RRP rule from EPA, inherited many of the same challenges renovators face trying to work with the EPA RRP rule.

In my opinion, the ability to work with and interact with the same people who not only enforce the rule in MA, but also have the ability to help shape the MA RRP rule, has been a major plus for those Massachusetts contractors affected by the rule. At the budget hearing I shared this opinion and stressed that I hoped DOS would get adequate budgeting to keep such communication opportunities available in the future. Here are a few of the items I suggested at the hearing:
DOS should have adequate funding to accomplish public and regulated community awareness about the rule so home owners would know to only hire MA Licensed Lead-Safe Renovation Contractors and to assist in getting those who need to be licensed the information they need to do so. Right now in MA, there are approximately 29,000 registered Home Improvement Contractor (HIC) businesses but only about 4000 EPA Certified Firms. Of the 4000 EPA Certified Firms, only approximately 1000 have obtained the required MA Lead-Safe Renovation Contractors License.
The EPA claims their rule includes lead-safe work practices, but in reality it does not. The EPA rule and the required certified renovator training include lead-safe containment practices. These containment practices actually put workers at greater risk because airborne lead dust becomes concentrated due to the containment, triggering major concerns with worker safety and related OSHA compliance. The EPA does not included lead-safe work practices or training that help renovators eliminate and or dramatically reduce the creation of lead dust to begin with. I stressed that the creation of real lead-safe work practices and training programs to share them with workers would have several benefits. These include a better skilled work force, a higher paid workforce, more taxes collected for the state through payroll taxes on increased wages, compliance with the OSHA Lead In Construction Standards would be easier and less expensive, and the risk of lead poisoning for occupants and those doing the work could be dramatically reduced.
I also stressed the need for and opportunity to educate our children and young workers to prepare them to meet the needs of the residential construction industry. Teaching lead-safe work practices to students in our state's vocational and trade schools would help contractors, the students and our state improve worker health and safety in addition to many possible economic benefits for each of the parties.
I suggested that one of the big opportunities DOS and the regulated community would have if adequate funding was available would be increased awareness of the RRP rule as well as the serious dangers and health effects of lead. Increased awareness could help get more businesses properly licensed. Consumers would be better informed before doing renovations where lead was present and before choosing a contractor to do the work. If more local building inspectors and health departments across the state knew about the rule they could help with awareness and enforcement. And, if we educate young school children about the dangers of lead and how to avoid them, in essence we would be creating a next generation of consumers, workers, business owners and parents who could help carry on a legacy of awareness and respect for the dangers and risks of lead poisoning.
Both Mark and I stressed the importance of finding and implementing strategies to help level the playing field for honest and hardworking renovators and to help eliminate illegally operating contractors and moonlighters who participate in the underground economy. We encouraged putting RRP related requirements on building permit applications, putting some skin in the game for home owners who hire illegally operating workers and businesses, and providing timely and accurate information and or answers for those businesses and individuals who are trying to do the right thing and are seeking to comply with the RRP Rule.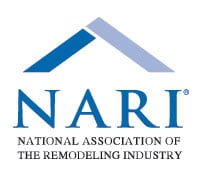 EM NARI, Mark Paskell, Mark Casale and I are all committed to both protecting and advancing the professionalism of RRP renovators in MA. The RRP rule is a challenge but also an opportunity for our industry. If we all work together, as individuals and as members of trade associations to help guide, assist and hold accountable those who regulate us; our industry and consumers will all be much better off. I hope you will join us in our efforts and or support us in our efforts. We need all the help and encouragement we can get to help effect change and protect the interests of honest and hardworking professionals affected by the RRP rule.