What You Don't Know About Respirators and Probably Would Rather Not Know
On December 2nd I attended an RRP/OSHA Respiratory and Worker Protection Workshop put on by The Contractor Coaching Partnership and Safety Trainers. The workshop was really helpful for me. It helped me tie together some of my open questions and concerns regarding OSHA requirements and compliance as they relate to RRP related work activities for employees.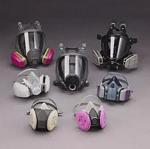 While at the workshop I found one thing the main instructor Darcy Cook of Safety Trainers said to be very important for contractors to be aware of. Under the OSHA Lead in Construction Standard, contractors must assume their employees will be exposed to lead above OSHA's established action level requiring the use of respirators until they actually conduct air monitoring testing to prove otherwise.
This means that respirators must be worn while doing RRP work until the testing is done and a written respirator plan is put in place that details when a respirator is required and when it is not. Engineering controls can be used to limit the creation and or spread of lead dust while work is performed. The requirement to wear the respirator or not all depends on the kind of work being done as well as how the work is performed.
For example; the sanding of painted surfaces. If dry hand sanding is done, a respirator will definitely be required. If wet sanding is done a respirator may not be required. If the sanding is being done using a sander attached to a functioning HEPA Vac that captures all sanding dust, a respirator is probably not required. The previous sentence is qualified with "may" and "probably not" on purpose. The only way to know if a respirator is required or not is to monitor the air for lead dust while the work is actually being performed.
The chart below is from the EPA Certified Renovator Manual. The chart shows exposure levels of airborne leaded dust for some common renovation activities. OSHA's permissible exposure limit (PEL) for workers is 50 Micrograms per centimeter squared (50 µg/m3). If exposed over the PEL, workers must wear respirators. All three activities in the chart exceed the PEL.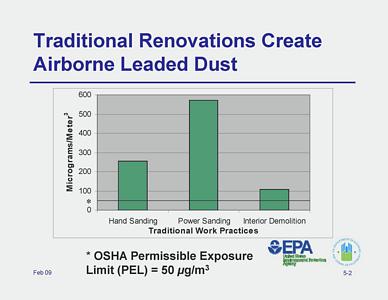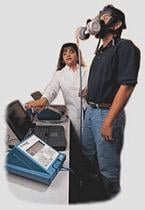 So, under OSHA requirements, before allowing them to do RRP related work or even enter a contained work area, employees must first be sent to a physician to be sure they are healthy enough to wear a respirator. Then they must be fit tested by a professional and provided with a properly fitted respirator that protects them from worst case lead exposure scenarios based on the kind of work they do. They must also be trained how to select, use, clean and store a respirator. And, they must wear the respirator until the air monitoring testing is done to identify when a respirator is required and when it is not depending on how the work is performed and what engineering controls are being used.
Although these OSHA requirements are not new, the majority of residential contractors are not aware of them. Unfortunately, ignorance of the requirements will not be an excuse if OSHA inspects one of your projects and or one of your employees is poisoned by lead. Perhaps it would have been helpful if EPA had included the above information in the required eight hour certified renovator training when showing the chart above.
Click here for more information about Personal Protection Equipment (PPE) required for RRP work
Click here for more about what you need to know about Respirators when doing EPA RRP work