MA RRP Assessment Form Introduced By CLPPP
Recently Massachusetts, one of the states delegated by EPA to administer and enforce the RRP rule, released a new form and protocol to be used by Massachusetts licensed lead inspectors when doing testing for lead prior to a RRP project. Although under the Massachusetts and EPA RRP rules a certified renovator can use EPA approved test kits to do this testing, as an alternative some home owners and renovators may elect to have the testing done by a lead testing professional. The following article was written by John MacIsaac of ASAP Environmental. John is a leader in the lead inspection industry and currently serves as President of the New England Chapter of (LEHA), The Lead and Environmental Hazards Association.

John's Article:


As of September 2010, CLPPP (Childhood Lead Poison Prevention Program) has produced a new report for RRP inspections. It is called the Renovation Repair and Painting Assessment Report. This new MA RRP inspection form will be used when licensed MA lead inspectors are testing surfaces that will be impacted during renovation of properties built prior to 1978. The information on this report will definitively say which surfaces are positive or negative for lead based paint based on findings from an XRF analyzer or sodium sulfide solution purchased by the inspector from the state of MA. If the surfaces tested negative for lead paint then the contractor is not required to follow the RRP protocol. If the surfaces are positive for lead based paint the contractors are required to follow the RRP protocol for set up, containment, and clean up.
There has been a MA Lead Determination report in place since before the current lead law was enacted. This report has been primarily used for testing for lead based paint as part of home sales. It was also used for RRP inspections prior to the release of the RRP Assessment report. The RRP Assessment report as well as the Lead Determination report cannot be used for deleading purposes. In order to perform deleading activities for compliance with the MA lead law you will need a Full Comprehensive Initial Inspection and/or Risk Assessment. Certified firms and the Lead Safe Renovators who work for them are not licensed to do deleading activities for compliance in MA unless they take an additional 4 hour deleading training course. Since April 22, 2010 we have seen a number of deleading jobs for compliance that have had unauthorized contractors perform the deleading activities. As a result of this the owners of these properties are getting letters of Unauthorized Deleading which does not remove them from liability from the lead law and they are also not eligible for available tax credits of up to $1,500 from the state.

It is important that property owners make the decision on whether or not they will or will not have testing done either by a licensed lead inspector or a lead safe renovator. The property owners are required to disclose all findings, from a licensed lead inspector's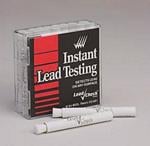 RRP Assessment report or from a Lead Safe Renovator who has used an EPA approved lead based paint test kit to test surfaces for lead, to all tenants or potential buyers.
Note: This information was provided by John MacIsaac of ASAP Environmental, Inc.
If you are looking for forms and signage to help you with comply with the EPA RRP rule, I recommend you check out what The Lead Paint Forms Store has to offer.