City Officials Drop The Ball On RRP Rule. Will City of Racine WI Be Fined?
In a September 20, 2010 article by the Racine Post in Wisconsin, the on-line news web site provides a very in-depth report about RRP violations on city financed and managed renovation projects. The article serves to demonstrate and validate the challenges law abiding and conscientious businesses have when trying to work within the RRP rule. A combination of illegally operating contractor competition as well as ineffective, under-funded and or non-existent enforcement has made earning a living challenging for legitimate business owners as well as the employees who work for these businesses.
Wisconsin is one of the states that has assumed administration and enforcement of the EPA RRP Rule. The article reports that Bill Bielefeldt alerted the Wisconsin State Department of Health Services about unsafe lead practices on city-owned homes. Racine's Neighborhood Stabilization Program (NSP) is designed to renovate and sell rundown homes in foreclosure. The article includes a photo gallery of pictures showing a variety of violations at the projects being managed by the city.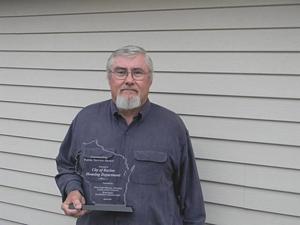 Bill Bielefeldt is a housing technician for the city of Racine. He received an award from the Wisconsin Rental Housing Legislative Council for his work on lead-safe practices. (Photo by Racine Post)
Bielefeldt claims the city program meant to improve neighborhoods may be endangering children. "It's embarrassing that the city isn't following its own rules and concerns", Bielefeldt said. "I would be just as much at fault as they are if I didn't report that," he said. "I didn't just go blindside them. I told them about this, and they chose not to do anything."
Now, the city is facing major violations for creating potentially hazardous conditions. The city's response to Bielefeldt? The Racine Post reports the city sent two uniformed police officers to Bielefeldt's Mount Pleasant home just before midnight on Sept. 17 to deliver a letter saying Bielefeldt was prohibited from all of the city's NSP sites.
Here's the letter the city delivered to Bielefeldt just before midnight:
Mr. Bielefeldt;
It has come to my attention that you have been on city-owned property without authorization. Pursuant to your suspension of employment beginning September 10, 2010, you have been relieved of your duties as a Housing Technician as of that date. Be advised that You are not to enter any city-owned property under the control of this department, including but certainly not limited to any homes that are now or are in the future in the Neighborhood Stabilization Program.
Further, you are not to contact any property owners participating in the city's loan program or any related programs, such as downpayment assistance, and you shall not represent yourself as a current City of Racine employee during the course of your suspension and/or upon termination. As was said to you on September 10, 2010, any requests for information from this department must be made directly to me for response.
Failure to comply will result in the city seeking all civil and criminal remedies available to it.

Signed,

Brian F. O'Connell
Director of City Development
------------
I predict we will hear many more stories similar to this one as more contractors become frustrated with illegal completion and the public becomes aware of the dangers of lead paint as well as how the RRP rule will affect them and renovations at their homes.