Senate moves to put off EPA RRP lead-paint violation fines
by JIM MYERS World Washington Bureau
Thursday, May 27, 2010
WASHINGTON - The U.S. Senate passed legislation Thursday to block fines temporarily under a rule that requires certification to remove lead paint in homes and certain facilities built prior to 1978.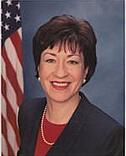 Sponsored by Sen. Susan Collins, R-Maine, the proposal was attached to a supplemental funding bill by a vote of 60-37.
Senators later passed that spending bill and sent it to the House for further action.
In pushing her amendment, Collins accused the U.S. Environmental Protection Agency of botching implementation of the lead-paint rule, which took effect in April.
"I support the EPA lead-paint abatement rule. There simply is no question that we must continue our efforts to rid lead-based paint from our homes,'' she said.
"The problem is there still aren't enough EPA-certified trainers in place to certify contractors. As a result, contractors face devastating fines.''
Fines under the rule could be as high as $37,500 per day.
Collins' legislation would bar the EPA from using funds in the spending bill to levy fines.
"The intent of my amendment is to give small contractors and construction professionals more time to comply with the new rule,'' she said.

For months, Sen. Jim Inhofe, R-Okla., has helped lead efforts on the EPA's implementation of the rule, which has sparked both concern and controversy in Oklahoma.
"Today's vote shows there is overwhelming bipartisan concern about the disastrous implementation of EPA's lead-based paint rule,'' Inhofe said.
Citing what he called widespread confusion with the rule's implementation, he also called for the Senate Environment and Public Works Committee to hold a hearing on the matter.
Inhofe serves as the top Republican on that panel.
Sen. Barbara Boxer, D-Calif., the chairwoman of the committee, argued against the Collins amendment. She spoke of the dangers of lead poisoning, especially to children, infants and pregnant women, and urged her fellow senators to reject Collins' effort to block enforcement of the rule.
"Let's not turn back the clock,'' she said. "Lead is poison.''
Boxer rejected arguments by Collins and others that the number of certified trainers was inadequate to provide the necessary classes for renovators and others. She said traveling trainers have been available to come in from out of state to offer the necessary training.
###