Riverhead Building Supply Educates Their Sales Team About The EPA RRP Rule
What The New EPA RRP Rule Means To Your Customers And Your LBM Business
Tuesday May 25, 2010

Two separate seminars are being held to accommodate

Riverhead's

large sales staff

***This is a private event for

Riverhead

Building Supply personnel only
As part of their ongoing efforts to help contractors adjust to the new realities of the EPA RRP Rule, Riverhead Building Supply will be arming their contractor sales staff with the knowledge and skills needed to help better serve their customers.
---
"What The New EPA RRP Rule Means To Your Customers And Your LBM Business"
Program Description:
Prepare your contractor sales and support staff to take advantage of this new opportunity to win new customers and better serve existing customers. This seminar will include a basic overview of the RRP Rule for the purpose of arming your contractor sales staff with the knowledge and skills needed to help serve customers who will work under and be affected by the new rule and its related considerations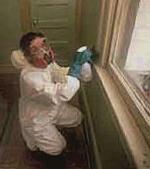 The New EPA RRP rules will be a game changer for most contractors. How they do their work, and what supplies and tools they will need and use will change significantly. Give your customers a reason to buy from your business other than low price. This session is designed to help your staff understand the new work practices so they can act as a valuable resource to your contractor and retail customers.
Who Should Attend:

Those in the LBM supply chain who provide products and services to contractors of all types who work on homes built prior to 1978, including: Inside and Outside Sales Managers and their salespeople, installed sales employees, hardware and home center sales associates, paint department employees, purchasing department decision makers, cashiers and yard employees.
How You Will Benefit:
Leave with a general understanding of the new EPA RRP Rules
Get a jump on competition who might not even be aware of the new rules
Know how the rules affect your customers before they do
Learn ways to approach customers about the new rules without scaring them off
Your team can become a valuable resource of information and solutions
Discover ways to increase each sale with high margin items
Learn where you can point your customers so they can get more help and information
Includes dedicated time to ask clarifying questions
What You Will Cover:
Which of your customers will be affected and how
Why some of your customers might not stay in business
What work types and building types fall under the rules
What tools, products and supplies your customers will need
What documentation you can supply and or sell to contractors to help them
Reasons to consider RRP certification for your staff
Important "need to know" facts about lead and lead poisoning