Wrapping Your Hands Around The RRP Rule With Shawn McCadden
Is Your Business Prepared for the New MA DOS RRP Lead Law and the OSHA Lead In Construction Standards?
Learn About RRP Compliance and How the New MA RRP Regulations Will Change How You Do Business at this RRP Town Hall Style Discussion With RRP Expert and RRP Trainer Shawn McCadden
Cost to Attend: $35.00 Per Person
Dinner is included!

For More Information or to Register for this Event You Can E-Mail suzie@capecodbuilders.org - Call Suzie Roettig at 508-398-3900 - You can also Register Online by visiting www.capecodbuilders.org (through the calendar page) or the NARI Cape Cod Web Site
---
Don't miss out on this special opportunity. Shawn has asked his Team of RRP Rule Experts, all fellow NARI Members, to join him to help answer your RRP Related Questions.
Wrapping Your Hands Around the EPA RRP Rule
Program Description: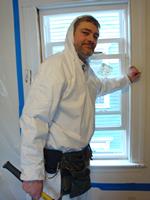 As a result of the New EPA RRP Rule, all remodeling and repair work done for compensation to housing built prior to 1978 must be done in compliance with the new Renovation, Repair and Painting Regulations. Contractors doing this work must make sure their employees and their businesses follow these new rules or risk fines of up to $37,500 per individual violation. To help our members better understand and comply with the new rule, the Home Builders & Remodelers Association of Cape Cod and NARI Cape Cod Chapter will be hosting a "Town Hall Meeting" style discussion at our February 8, 2011 general membership meeting. Shawn McCadden; remodeling industry consultant, RRP Certified Renovator Training Instructor and REMODELING Magazine columnist, will be the meeting facilitator. Shawn is a leading expert on the rule, has been studying the new regulations as well as the proposed amendments. He will be with us to help members and their guests with their questions about the new rule and will discuss how these changes might affect remodelers' businesses. You can't pretend not to know about or wait for this to go away. It is Shawn's opinion that smart business owners and managers can also use these new requirements in a variety of ways to separate their businesses from the competition.