RRP Certification Training Class With Shawn McCadden
EPA RRP Certified Lead-Safe Renovator Training & Certification (Also covers MA and RI Certification)
Class size is limited - Register Today!
This class sold out last year, don't be left out!
Wednesday, March 20, 2013

8:00AM -6:00 PM

Rhode Island Convention Center
Providence, RI
This course approved for the State of Massachusetts, the State of Rhode Island and states where the EPA is responsible for administration and enforcement of the RRP Lead Rule.
If you're looking for more out of this training than just passing the certification exam, Shawn is the right instructor for you.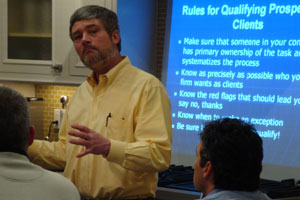 Unlike many RRP instructors Shawn has real "in the trenches experience". During this training you will also learn practical solutions for doing the work, estimating the related costs to do the work and understanding how the rule and rule compliance has already changed how you should be running your business.
---

On April 22, 2010, the EPA Renovation, Repair and Painting Lead Rule went into effect. This law named, 40 CFR Part 745 under the Toxic Substances Control Act, requires that renovations performed for compensation on pre-1978 homes, must be done by EPA Certified Firms using Certified Renovators. The list of firms who must comply include general contractors, painters, roofers, electricians, plumbers, gutter installers, plasterers, insulation installers, cable and IT installers, flooring installers, weatherization contractors, property management firms, insurance restoration companies, maintenance workers for cities, towns, colleges, universities and landlords. In addition, anyone must comply who is working for compensation and will disturb more than 6 square feet of interior painted surface and 20 square feet of exterior painted surface on pre-1978 homes.

In this training you will learn how to comply with the new EPA Renovation, Repair and Painting Lead Rule to become an EPA Certified Renovator
Participate in and learn the required RRP lead-safe practices
Be trained in eight different modules relating to the EPA RRP Lead Rule
Receive 6 hours of classroom training and two hours of hands-on instruction
Upon passing an end-of-course test, you will receive a certificate for Lead Renovator/Remodeler Training
Massachusetts and Rhode Island Certification is included in this training for residents of those independent states