Helping The Supply Chain Understand Remodelers and What Makes Them Tick!
"Contractor, Carpenter, Cowboy or Shoemaker?"
Selling to Remodelers isn't easy and some will definitely do more business with you than others. Understanding who they are, how they think and how they do business can help you pick the right Remodelers to sell to.
Contractor, Carpenter, Cowboy or Shoemaker?

Thursday November 11, 2010

Marvin of New York Training Center, Cortland NY

Event Scheduled From 9AM - 4PM

Shawn's seminar will be part of the 1st Annual Integrity Diamond Partners Forum, from 10AM - 11 AM


***This is a private invitation only event for

Integrity Diamond Partner Dealers
---
"Contractor, Carpenter, Cowboy or Shoemaker?"
No apologies, just the truth! "If you are a retailer doing business with the pro market, this session is one of the best investments you'll make this year! Don't miss out!"


Program Description: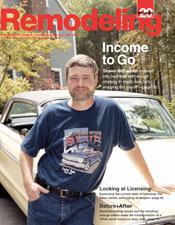 Remodelers are a unique and diverse group to work with, each one with very specific attitudes and needs. Who better to explain the different contractor and company types than one of them! This session, conducted by Shawn McCadden, CR a remodeling industry expert and former remodeler himself, will help attendees learn ways to better understand and qualify which remodelers to work with. Find out what they and their businesses need to help them increase sales and how to develop a mutually profitable business relationship at the same time.