Contractor Webinar: Five Key and Timely Business Investments for Remodelers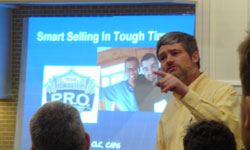 Wise investments in your business can help you earn and keep more money
and prepare your business for future challenges. In this
interesting and though provoking webinar
you will learn about
five areas remodelers should consider investing in
as their finances improve and the marketplace recovers.
By viewing this webinar you will learn:
How to use what you learned during the recession to prepare your business for the next recession
How and why to choose the right sales training for you and your team
Investments your business can make that will improve your businesses performance and lower operating costs at the same time
How to use your business's website and web presence to increase leads and the quality of those leads
---
"Five Key and Timely Business Investments for Remodelers" was reassuring because it confirmed our own thinking on responses to challenges we face, while also offering some ideas. Thanks for offering it! James Bingley, Premier Contractors, Inc.
---